01.12.2014 | Clinical trial | Ausgabe 3/2014 Open Access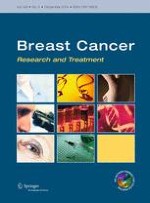 Skin/nail infections with the addition of pertuzumab to trastuzumab-based chemotherapy
Zeitschrift:
Autoren:

Joanne Mortimer, Jae Jung, Yuan Yuan, Laura Kruper, Daphne Stewart, Samuel Chung, Kim Wai Yu, Mary Mendelsohn, Massimo D'Apuzzo, Bernard Tegtmeier, Sanjeet Dadwal
Wichtige Hinweise
This data will be presented at the San Antonio Breast Cancer Symposium, December 9–13, 2014.
Abstract
We report a series of breast cancer patients with invasive skin and nail infections with
Staphylococcus
species that we attribute to the addition of pertuzumab to trastuzumab-based therapy. With the suspicion of an increased incidence of cutaneous infection in patients treated with pertuzumab and trastuzumab-based chemotherapy, treating medical oncologists identified patients receiving therapy who experienced infection. Between March and October 2014, 18 patients treated with pertuzumab and trastuzumab-based chemotherapy were found to have 21 separate skin/nail infections. Treatment was administered as neoadjuvant therapy in 12 (67 %) patients, adjuvant therapy in four (22 %) patients, and for metastatic disease in two (11 %) patients. Granulocyte growth factors were administered in 11 (61 %) patients and no patients were documented to be neutropenic. New skin and nail lesions developed as early as cycle 1 and as late as 8 months from initial therapy. The 21 separate infections documented were folliculitis and "bite-like" lesions (10), abscess (6), paronychia (3), and cellulitis (2). The appearance of these lesions was distinct from typical EGFR-associated skin changes. When cultures were obtained,
Staphylococcus
species were isolated. Quantitative immunoglobulins were assessed in 14 (78 %) patients and were abnormally low in six (43 %) of these patients. The skin infections resulted in treatment delay in two (11 %) patients and premature discontinuation of therapy in one patient. We believe that the skin/nail infections reported here in patients treated with the combination of pertuzumab and trastuzumab represent a previously unrecognized toxicity of adding pertuzumab to trastuzumab-based therapies.