17.10.2016 | Brief Report | Ausgabe 2/2017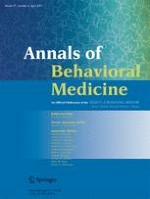 Social Cognitive Constructs Did Not Mediate the BEAT Cancer Intervention Effects on Objective Physical Activity Behavior Based on Multivariable Path Analysis
Zeitschrift:
Autoren:

MD, MPH Laura Q. Rogers, PhD Kerry S. Courneya, PhD Phillip M. Anton, PhD Patricia Hopkins-Price, PhD Steven Verhulst, MBA Randall S. Robbs, PhD Sandra K. Vicari, PhD Edward McAuley
Wichtige Hinweise
This research was supported by the National Cancer Institute R01CA136859 (Dr. Rogers). Dr. Kerry S. Courneya is supported by the Canada Research Chairs Program.
Abstract
Background
Most breast cancer survivors do not meet physical activity recommendations. Understanding mediators of physical activity behavior change can improve interventions designed to increase physical activity in this at-risk population.
Purpose
Study aims were to determine the 3-month Better Exercise Adherence after Treatment for Cancer (BEAT Cancer) behavior change intervention effects on social cognitive theory constructs and the mediating role of any changes on the increase in accelerometer-measured physical activity previously reported.
Methods
Post-treatment breast cancer survivors (
N
= 222) were randomized to BEAT Cancer or usual care. Assessments occurred at baseline, 3 months (M3), and 6 months (M6). Adjusted linear mixed model analysis of variance determined intervention effects on walking self-efficacy, outcome expectations, goal setting, and perceived barrier interference at M3. Path analysis determined mediation of intervention effects on physical activity at M6 by changes in social cognitive constructs during the intervention (i.e., baseline to M3).
Results
BEAT Cancer significantly improved self-efficacy, goals, negative outcome expectations, and barriers. Total path analysis model explained 24 % of the variance in M6 physical activity. There were significant paths from randomized intervention group to self-efficacy (
β
= 0.15,
p
<
.
05) and barriers (
β
= −0.22,
p
< .01). Barriers demonstrated a borderline significant association with M6 physical activity (
β
= −0.24,
p
= .05). No statistically significant indirect effects were found.
Conclusions
Although BEAT Cancer significantly improved social cognitive constructs, no significant indirect effects on physical activity improvements 3 months post-intervention were observed (NCT00929617).