15.09.2020 | Original Article - Tumor - Other | Ausgabe 2/2021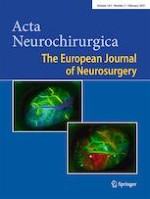 Stereotactic radiosurgery for orbital cavernous venous malformation: a single center's experience for 15 years
Zeitschrift:
Autoren:

Won Jae Lee, Kyung-Rae Cho, Jung-Won Choi, Doo-Sik Kong, Ho Jun Seol, Do-Hyun Nam, Yoon-Duck Kim, Kyung In Woo, Jung-Il Lee
Wichtige Hinweise
Presentation at a conference
None.
This article is part of the Topical Collection on
Tumor - Other
Comments
Won Jae Lee et al have investigated clinical and radiological outcome in 30 patients who underwent GKRS for orbital cavernous venous malformations. This unique series is demonstrating GKRS to be an effective and very safe alternative to resection surgery. Very interestingly the authors have used optical coherence tomography (OCT) in 14 patients in order to study the predictive value of peripapillary retinal nerve fiber layer (pRNFL) thickness. They found no post-radiosurgery change in pRNFL. More importantly they have shown that patients with normal average pRNFL thickness were demonstrating a better visual recovery. However, it is a retrospective heterogeneous series. All the patients were not treated using the same protocol (single versus hypofractionation) not all the patients were investigated with OCT. Their use of the linear quadratic formula and BED for single dose is nowadays not consensual. The absence of eye ball fixation during imaging and SRS is also a potential matter of debate.
Anyway, this is a very convincing paper which may affect, in the future the management of these patients.
Jean Marie Regis
Marseille, France
Publisher's note
Springer Nature remains neutral with regard to jurisdictional claims in published maps and institutional affiliations.
Abstract
Background
Stereotactic radiosurgery such as Gamma Knife radiosurgery (GKRS) has been shown to have a good treatment effect for orbital cavernous venous malformation (CVM). However, radiation-induced retinopathy or optic neuropathy is a vision-threatening complication of orbital irradiation. Predicting the post-treatment visual outcome is critical.
Methods
Clinical and radiological outcomes were investigated in 30 patients who underwent GKRS for orbital CVM between July 2005 and February 2020. Measurement of peripapillary retinal nerve fiber layer (pRNFL) thickness using optical coherence tomography (OCT) was obtained in 14 patients.
Results
The median clinical and radiological follow-up periods were 46.6 months (range, 15.9–105.8) and 27.5 months (range, 15.4–105.8), respectively. Twenty-eight patients underwent multisession (4 fractions) GKRS. The median cumulative marginal dose was 20 Gy (range, 16–24). Two patients underwent single-session GKRS. Marginal doses were 15 Gy and 10.5 Gy in each patient. The volume of CVM decreased in 29 (97%) patients. Visual acuity was improved in 6 (20%) patients and was stable in 22 (73%) patients. Visual field defect and exophthalmos were improved in all patients. Serial investigation of OCT showed no statistically significant difference in pRNFL thickness after GKRS. Patients with normal average pRNFL thickness showed better visual recovery than patients with thin average pRNFL thickness.
Conclusions
GKRS is an effective and safe treatment option for orbital CVM. The pRNFL thickness before GKRS can be a prognostic indicator for visual recovery in orbital CVM after GKRS.