22.04.2016 | Original Article | Ausgabe 1/2017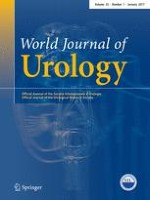 Structured learning for robotic surgery utilizing a proficiency score: a pilot study
Zeitschrift:
Autoren:

Andrew J. Hung, Thomas Bottyan, Thomas G. Clifford, Sarfaraz Serang, Zein K. Nakhoda, Swar H. Shah, Hana Yokoi, Monish Aron, Inderbir S. Gill
Abstract
Purpose
We evaluated feasibility and benefit of implementing structured learning in a robotics program. Furthermore, we assessed validity of a proficiency assessment tool for stepwise graduation.
Methods
Teaching cases included robotic radical prostatectomy and partial nephrectomy. Procedure steps were categorized: basic, intermediate, and advanced. An assessment tool ["proficiency score" (PS)] was developed to evaluate ability to safely and autonomously complete a step. Graduation required a passing PS (PS ≥ 3) on three consecutive attempts. PS and validated global evaluative assessment of robotic skills (GEARS) were evaluated for completed steps. Linear regression was utilized to determine postgraduate year/PS relationship (construct validity). Spearman's rank correlation coefficient measured correlation between PS and GEARS evaluations (concurrent validity). Intraclass correlation (ICC) evaluated PS agreement between evaluator classes.
Results
Twenty-one robotic trainees participated within the pilot program, completing a median of 14 (2–69) cases each. Twenty-three study evaluators scored 14 (1–60) cases. Over 4 months, 229/294 (78 %) cases were designated "teaching" cases. Residents completed 91 % of possible evaluations; faculty completed 78 %. Verbal and quantitative feedback received by trainees increased significantly (
p
= 0.002,
p
< 0.001, respectively). Average PS increased with PGY (post-graduate year) for basic and intermediate steps (regression slopes: 0.402 (
p
< 0.0001), 0.323 (
p
< 0.0001), respectively) (construct validation). Overall, PS correlated highly with GEARS (
ρ
= 0.81,
p
< 0.0001) (concurrent validity). ICC was 0.77 (95 % CI 0.61–0.88) for resident evaluations.
Conclusion
Structured learning can be implemented in an academic robotic program with high levels of trainee and evaluator participation, encouraging both quantitative and verbal feedback. A proficiency assessment tool developed for step-specific proficiency has construct and concurrent validity.