01.12.2017 | Research | Ausgabe 1/2017 Open Access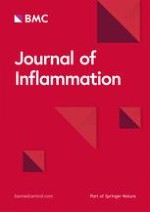 Successful reduction of inflammatory responses and arachidonic acid–cyclooxygenase 2 pathway in human pulmonary artery endothelial cells by silencing adipocyte fatty acid-binding protein
Zeitschrift:
Autoren:

Qian Wang, Guanglin Shi, Ying Teng, Xia Li, Jin Xie, Qin Shen, Caixin Zhang, Songshi Ni, Zhiyuan Tang
Abstract
Background
Adipocyte fatty acid-binding protein, also known as aP2 or fatty acid-binding protein 4 (FABP4), plays an important role in inflammatory and metabolic responses in adipocytes and macrophages. Recent work has demonstrated that macrophage FABP4 integrates inflammatory and lipid metabolic responses, thereby contributing to the development of insulin resistance and atherosclerosis. However, it is not known whether FABP4 in human pulmonary artery endothelial cells(HPAECs) modulates inflammation.
Results
Here, we demonstrate that FABP4 and inflammatory cytokines are upregulated in lipopolysaccharide(LPS)-stimulated HPAECs. In addition, LPS increases the expression of molecules in the arachidonic acid(AA)–cyclooxygenase (COX) 2 signaling pathway in FABP4-expressing, but not FABP4-deficient, HPAECs.
Conclusions
Our findings demonstrate that silencing FABP4 could decrease inflammatory cytokines, which were reported to be expressed via the AA–COX2 pathway, in HPAECs. In addition, silencing FABP4 could inhibit the expression of molecules in the AA–COX2 pathways. So we speculate silencing FABP4 could decrease the inflammatory response in HPAECs, which involves in the AA–COX2 signaling pathway. Our study suggests that FABP4 could be a potential biomarker and intervention point for the inflammation-related disease in HPAECs such as pulmonary thromboembolism.