01.12.2018 | Research | Ausgabe 1/2018 Open Access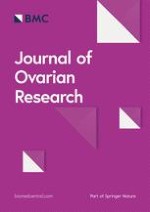 Suitability assessment of baseline concentration of MMP3, TIMP3, HE4 and CA125 in the serum of patients with ovarian cancer
Zeitschrift:
Autoren:

Aneta Cymbaluk-Płoska, Anita Chudecka-Głaz, Ewa Pius-Sadowska, Bogusław Machaliński, Janusz Menkiszak, Agnieszka Sompolska-Rzechuła
Abstract
Background
MMP and TIMP play an important role in the degradation of extracellular matrix components which are essential for tumor growth, invasion and metastasis. Aim of this research was to assess MMP3 and TIMP3 as prognostic factors among patients with ovarian cancer.
Results
It was found that high levels of output MMP3 correlated with shortened overall survival time of patients by 9.7 months. In addition, it has been shown that high concentrations of output MMP3 were significantly associated with a shorter disease free time in median concentrations implemented
p
= 0.0059. Statistically significant dependence has been shown between an average concentration of TIMP3 protein to the overall survival of patients. The higher output concentration of TIMP3, the longer patients' survival by 8.9 month. In addition, it was found that high TIMP3 concentrations output were associated with a significantly longer disease free duration at a median concentrations
p
= 0.007.
Conclusion
Preliminary research shows that output levels of MMP3 and TIMP3 proteins correlate with overall survival of patients. In some cases also time free of illness.