01.12.2017 | Research article | Ausgabe 1/2017 Open Access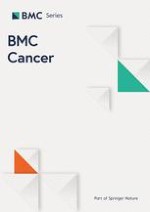 Supporting adherence to oral anticancer agents: clinical practice and clues to improve care provided by physicians, nurse practitioners, nurses and pharmacists
Zeitschrift:
Autoren:

Lonneke Timmers, Christel C. L. M. Boons, Mathieu Verbrugghe, Bart J. F. van den Bemt, Ann Van Hecke, Jacqueline G. Hugtenburg
Wichtige Hinweise
Electronic supplementary material
The online version of this article (doi:
10.​1186/​s12885-017-3110-2
) contains supplementary material, which is available to authorized users.
Abbreviations
BHS
Belgian hematology society
BMQ
Beliefs about medicines questionnaire
BSMO
Belgian society of medical oncology
NVALT
Nederlandse Vereniging van Artsen voor Longziekten en Tuberculose
NVMO
Nederlandse Vereniging voor Medische Oncologie
NVPF
Nederlandse Vereniging voor Poliklinisch Farmacie
PAMQ
Perceptions of adherence management questionnaire
V&VN
Verpleegkundigen & Verzorgenden Nederland
VVRO
Vereniging voor Verpleegkundigen Radiotherapie en Oncologie
VZA
Vlaamse Vereniging van Ziekenhuisapothekers
WHO
World Health Organisation
Background
The aim of this study was to explore current clinical practices of supporting adherence to treatment with OACA in Belgium and the Netherlands and to find clues for improvement of care. Furthermore, the relationship between HCPs' beliefs and the supportive care HCPs provide have been explored.
Methods
Study design
Using a cross-sectional observational design, the present study was conducted in the period April - October 2014 in the Netherlands and Belgium. HCPs with the profession of medical oncologist, haematologist, nurse practitioner (NP), nurse or pharmacist, and providing patient care in a (haemato-)oncology setting in the Netherlands or Dutch-speaking part of Belgium, were asked to fill out a questionnaire.
Data collection procedure
HCPs were invited by their professional associations to fill out an electronic questionnaire available in the form of a secure internet-link. The professional associations that spread the link to their members were the NVMO, HOVON, NVALT, V&VN, NVPF in the Netherlands and the VZA, VVRO, BSMO, BHS in Belgium. The link was made available either by e-mail and/or publication in an electronic newsletter. A reminder was sent to stimulate response. Additional recruitment took place by distributing the internet-link within the authors' network, and by handing out a paper version of the questionnaire at a scientific meeting on adherence to OACA treatment, held on the 13 th of October 2014 in Brussels. The participants completed the questionnaire anonymously.
Questionnaire
A composite questionnaire was used, starting with personal characteristics of the respondents i.e., profession, gender, number of years employed, hospital and specialization. The questionnaire consisted of four parts: 1) Perceptions of adherence management, 2) Shared decision making (SDM), 3) Beliefs about OACA, and 4) Care usually provided (usual care (UC)) in supporting adherence to treatment with OACA. As respondents were not able to give multiple answers for different patient groups, they were asked to complete the questionnaire in relationship to their main patient group (the patient group they treat most frequently). The questionnaire was pilot-tested by nine HCPs (i.e., a medical oncologist, a haematologist, three nurse practitioners, three pharmacists, and a general practitioner) in Belgium and the Netherlands. In individual interviews it was explored whether the items were understood as intended. The pilot-HCPs were also asked about items of care activities to support medication adherence and to add items if anything was missing. After processing the comments, the final version of the questionnaire was defined.
The listed items were categorised into eight domains:
Knowledge, Awareness, Self-efficacy, Intention Formation, Implementation, Social Support, Adverse Events Management
and
Facilitation
. Each member of the research group independently categorised the 47 care activities into one of the eight domains. The categorization of the items was discussed within the research group in two rounds until consensus was reached. Table
1
gives an overview of the domains, its definitions, and typically used techniques within the domain. The categorization was not made with the intention to develop a questionnaire that assesses eight domains, but was done to organize all the activities.
Table 1
Domains of Usual Care activities in supporting adherence to OACA
Domain

Definition

Typically used technique(s)

Knowledge

Usual care activities focussing on the knowledge of patients about their diseases and the medicines used for treatment, excluding knowledge related to adverse events

- providing information

- increase patient understanding

Awareness

Usual care activities aimed to increase the awareness of patients with respect to non-adherence to treatment and consequences of non-adherence

- risk communication

- giving feedback on patients' behaviour

Self-efficacy

Usual care activities that focus on self-efficacy; a patient's belief in her/his ability in succeeding to adhere to treatment

- the planning of coping responses like discussing barriers and finding ways to overcome them

Intention Formation

Usual care activities which focus on fostering the intention to adhere by planning how and when to take the medication

- tailoring the medication schedule

Implementation

Usual care activities which focus on the effective implementation of the intended use of medication

- stimulating the use of cues

Social Support

Usual care activities that provide patients with professional social support with respect to the correct use of their medication

- giving social support

Adverse Events Management

Usual care activities which focus on patients' management of adverse events

- providing information about adverse events

- facilitating coping with adverse events

Facilitation

Usual care activities which facilitate a correct use of medication and which are not categorized in one of the other domains

- reducing environmental barriers
Statistics
Respondent descriptive data were analysed as frequencies (percentages) for categorical variables and as the median and interquartile range (IQR) for continuous data. The usual care sum scores of HCPs in the Netherlands and in Belgium were compared for all professions by means of the non-parametric Mann Whitney test for nurse practitioners and the
T
-test for all other professions (with normally distributed scores). Though the items listed Associations between respondent characteristics and care activities were assessed in univariate linear regression analyses, with the usual care sum score as the dependent variable. A multivariate linear regression was performed using all HCPs' characteristics with p < 0.25 in the univariate analyses. A backward elimination procedure was used where at each step the predictor with highest
p
-value was dropped from the model until only significant predictors remained. For all analyses, a two-tailed significance level of 0.05 was used.
P
-values below this level were considered statistically significant. Statistical analysis was performed with SPSS 22.0 for Windows (IBM Corp, Armonk, NY, USA).
Results
Discussion
The present study shows that HCPs considered themselves to actively support their patients in adhering to treatment with OACA by using a wide range of activities. The 47 listed care activities were all, to a greater or lesser extent, performed in clinical practice in the Netherlands and Belgium. However, in certain areas activities were carried out only to a limited extent.
There are strengths and limitations to discuss. The present study provides an extensive survey of care activities performed by a variety of HCPs including physicians, nurse practitioners, nurses and pharmacists aimed to support adherence to OACA treatment. The list of 47 items was literature based and completed with input from medical oncologists, haematologists, nurse practitioners, nurses, pharmacists and researchers experienced in performing care activities related to promoting adherence to OACA treatment from two countries. A limitation to address is that these care activities were reported for patients using OACA for all types of cancer. Patients using long-term medication need to be supported in a different manner than patients with shorter life expectancies. Another limitation is that the response rate could not be calculated. Information on the number of HCPs reached with the postings and the number of the reached HCPs involved in the care for patients using OACA was not available. However, the respondents were employed in no less than 87 hospitals in the Netherlands and Belgium. Another limitation is the potential selection bias as the result of the methods applied. The questionnaire might have been filled out mainly by HCPs with awareness of the importance of medication adherence and/or those actively involved in the management of medication adherence. Furthermore, answers may be overstated by the tendency to give socially desirable answers. It is therefore not unlikely that in daily practice the medication adherence care activities are less extensively performed than reported. Finally, it would also be interesting to study these care activities from the patients' perspective.
Conclusions
Although HCPs reported to perform a wide range of care activities, certain domains related to the management of medication adherence in patients treated with OACA were given less attention. Activities related to patient knowledge and adverse event management were reported most frequently but activities aimed to support self-efficacy and maintain adherence during ongoing use were frequently missed. HCPs should improve care by addressing adherence directly e.g., by questioning patients' (expected) barriers and discussing strategies to overcome them, by asking after missed doses and offering (electronic) reminders to support long-term medication adherence. Enhancing HCP's perceptions of management of adherence is likely to have a positive effect on the quality of the care they provide to their patients. A multidisciplinary approach is recommended in which the role of the pharmacist could be expanded.
Acknowledgements
The authors would like to thank the team who participated in the pilot test: JR Kroep (medical oncologist), JJWM Janssen and L Noens (haematologists), SM Sprangers- van Campen, M Quaghebeur and K Eeckhaut (nurse practitioners), S Janssen, E Tommelein and N Clottens (pharmacists) and PJM Elders (general practitioner). We also would like to thank the professional associations (NVMO, HOVON, NVALT, V&VN, NVPF, VZA, VVRO, BSMO, BHS) and S Rottey (medical oncologist), E Decoene (NP), and F Buyle (pharmacist) for their assistance with the recruitment. Furthermore we thank W. Kraan for assistance composing the questionnaire and PM van de Ven for his statistical advices.
Funding
No funding was obtained.
Availability of data and materials
The datasets used and/or analysed during the current study available from the corresponding author on reasonable request.
Authors' contributions
LT and CB designed the study, LT, CB, MV, BvdB, AVH, and JHs contributed to the development of the questionnaire, LT, CB and MV collected data, LT, CB, MV, BvdB, AVH, and JH categorized the activities in domains, LT and CB analysed the data, LT, CB, MV, BvdB, AVH, and JH contributed to the manuscript and approved the final manuscript.
Competing interests
The authors declare that they have no competing interests.
Consent for publication
Not applicable.
Ethics approval and consent to participate
The study was assessed as not governed by the Dutch Medical Research involving Human Subjects Act (WMO) by the Medical Ethics review board of the VU University Medical Center (Amsterdam, the Netherlands) and was approved by the Ethical Review Committee of the Ghent University Hospital (Ghent, Belgium). Written consent was deemed unnecessary as the questionnaire was filled out voluntary and anonymous.
Open Access
This article is distributed under the terms of the Creative Commons Attribution 4.0 International License (
http://​creativecommons.​org/​licenses/​by/​4.​0/​
), which permits unrestricted use, distribution, and reproduction in any medium, provided you give appropriate credit to the original author(s) and the source, provide a link to the Creative Commons license, and indicate if changes were made. The Creative Commons Public Domain Dedication waiver (
http://​creativecommons.​org/​publicdomain/​zero/​1.​0/​
) applies to the data made available in this article, unless otherwise stated.