01.12.2019 | Research | Ausgabe 1/2019 Open Access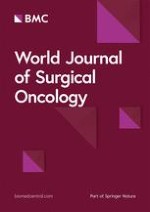 Surgical approach to solid pseudopapillary neoplasms of the proximal pancreas: minimally invasive vs. open
Zeitschrift:
Autoren:

Emmanuel II Uy Hao, Seoung Yoon Rho, Ho Kyoung Hwang, Jae Uk Chung, Woo Jung Lee, Dong Sup Yoon, Chang Moo Kang
Wichtige Hinweise
Publisher's Note
Springer Nature remains neutral with regard to jurisdictional claims in published maps and institutional affiliations.
Abstract
Background
Solid pseudopapillary neoplasms (SPN) of the pancreas are rare pancreatic neoplasms where complete resection is the cornerstone in management. It has been demonstrated in previous studies that minimally invasive surgical approaches are effective management options in treating SPNs of the distal pancreas. The purpose of this study is to evaluate the feasibility of minimally invasive surgery in treating SPNs of the uncinate, head, and neck of the pancreas.
Methods
Data from 2005 to 2017 at Severance Hospital of the Yonsei University Health systems in Seoul, South Korea, were retrospectively collected for 25 patients who were diagnosed with SPN of the uncinate, head, and neck of the pancreas and who underwent curative resection. Three groups of patients were considered, depending on the year of surgery, in order to determine trends in the surgical management of SPN. The patients were also divided into two groups corresponding to the type of operation done (minimally invasive surgery vs. open surgery). Perioperative patient data, including age, gender, body mass index (BMI), tumor size, and operation done, were compared and analyzed statistically. Long-term nutritional effects were measured using the Controlling Nutritional Status (CONUT) scoring system.
Results
There were no statistically significant differences in age, gender, BMI, symptomatic presentation, operation type, tumor size, and tumor stage between the three time periods. In comparing between minimally invasive and open surgery, there were no statistically significant differences in age, gender, symptomatic presentation, BMI, tumor size, preoperative stage, type of operation, operation time, pancreatic duct size, post-operative pancreatic fistula (POPF) grade, death associated with disease, recurrence, pathological parameters, and change in CONUT score. There was a significant difference in tumor size (4.5 ± 1.8 vs. 2.6 ± 1.0 cm,
p
 = 0.004), blood loss (664.2 ± 512.4 vs. 277.7 ± 250.8 mL,
p
 = 0.024), need to transfuse (33% vs. 0%,
p
 = 0.023), hospital length of stay (27.4 ± 15.3 vs. 11.5 ± 5.3 days,
p
 = 0.002), and complication rate (75% vs. 30.8%,
p
 = 0.027) between the two groups.
Conclusions
In appropriately selected patients with SPNs of the uncinate, head, and neck of the pancreas, a minimally invasive surgical approach offers at least equal oncologic and nutritional outcomes, while demonstrating decreased complications and decreased hospital length of stay compared with that of an open surgical approach.