05.06.2018 | Ausgabe 12/2018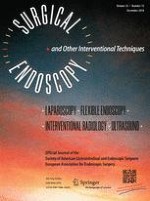 Surgical outcomes for diverticulitis in young patients: results from the NSQIP database
Zeitschrift:
Autoren:

Meara Dean, Herman Kessler, Emre Gorgun
Abstract
Background
The incidence of diverticulitis is increasing among young patients (≤ 50 years), as are rates of recurrent disease. There is ongoing controversy regarding the best management strategy for this patient group. Guidelines have changed from elective colectomy after a single episode to a more individualized approach no longer based on patient age. This study investigated the clinical presentation and surgical outcomes of young patients undergoing surgery for diverticulitis over two time periods.
Methods
The American College of Surgeons National Surgical Quality Improvement Program database was searched from 2005 to 2014 to identify all patients ≤ 50 with a diagnosis of diverticulitis. Data were obtained on patient demographics, comorbidity, perioperative details, and 30-day post-operative outcomes. Data were compared between two time periods, being 2005–2010 (Group 1) and 2011–2014 (Group 2).
Results
10,844 patients were included in the analysis. The mean patient age was 43 years (range 18–50), and 35% were female. Significantly more patients were obese (BMI > 30) in Group 2 (52%) versus Group 1 (47%). Laparoscopic surgery and emergency surgery and perforation rates were significantly higher in Group 2. Wound infection was significantly less in Group 2. Post-operative organ/space infection and medical morbidity were significantly higher in Group 2.
Conclusions
In recent years, there has been a change to a more conservative approach for elective colonic resection in young patients with a history of diverticulitis. Increasingly young patients presenting for surgery for diverticulitis are male and obese, and increased rates of post-operative medical morbidity have been observed. The laparoscopic approach is more common, with resultant increased operative times, and decreased wound infection rates. The observed increased in emergency surgery and perforation rates may be explained by the change in management approach with less elective resections.