01.12.2018 | Research article | Ausgabe 1/2018 Open Access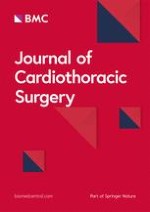 Surgical strategies protecting against right ventricular dilatation following tetralogy of Fallot repair
Zeitschrift:
Autoren:

Amr A. Arafat, Elatafy E. Elatafy, Sahar Elshedoudy, Mahmoud Zalat, Neamet Abdallah, Ahmed Elmahrouk
Abstract
Background
Right ventricular (RV) volume overload increases morbidity and mortality after tetralogy of Fallot (TOF) repair. Surgical strategies like pulmonary leaflets sparing and tricuspid valve repair at time of primary repair may decrease RV overload. Our objective is to evaluate early and midterm results of pulmonary leaflets sparing with infundibular preservation and tricuspid valve repair in selected TOF patients with moderate pulmonary annular hypoplasia.
Methods
From 2011 to 2016; 46 patients with TOF and moderate pulmonary annular hypoplasia had surgical repair with sparing of the pulmonary valve leaflets. Concomitant tricuspid valve repair was performed in 33 patients (71.8%). Mean age was 13.1 ± 4.8 months, 68% were males (
n
= 31) and mean weight was 9.5 ± 2.3 kg. Preoperative McGoon ratio was 1.9 ± 0.4 and pulmonary valve z-score ranges from − 2 to − 3. Preoperative pressure gradient of RVOT was 80.9 ± 7.7 mmHg and 10.9% had minor coronary anomalies (
n
= 5).
Results
All repairs were performed through trans-atrial trans-pulmonary approach. 87% had pulmonary valve commissurotomy (
n
= 40). Mean cardiopulmonary bypass time was 71 ± 6.3 min and ischemic time 42.4 ± 4.9 min. Hospital mortality occurred in 4.3% (
n
= 2). Mean RVOT pressure gradient decreased significantly postoperatively (28.8 ± 7.2 mmHg,
p
-value< .001) and at the last follow up (23.6 ± 1.8 mmHg,
p
-value< .001). Pulmonary regurgitation progressed by one grade in 2 patients compared to the postoperative grade. 1 patient (2.5%) had late mortality and reintervention was required in 5 patients (12.5%).
Conclusion
Pulmonary leaflets sparing, and tricuspid valve repair are safe for TOF repair with no added morbidity or mortality. These procedures could contribute to reducing right ventricular volume overload over time after TOF repair.