01.12.2018 | Research | Ausgabe 1/2018 Open Access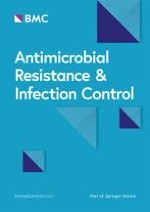 Synergistic effect of eugenol with Colistin against clinical isolated Colistin-resistant
Escherichia coli

strains
Zeitschrift:
Autoren:

Yi-ming Wang, Ling-cong Kong, Jie Liu, Hong-xia Ma
Abstract
Background
Bacterial infections have become more challenging to treat due to the emergence of multidrug-resistant pathogenic bacteria. Combined antibiotics prove to be a relatively effective method to control such resistant strains. This study aim to investigate synergistic activity of eugenol combined with colistin against a collection of clinical isolated
Escherichia coli
(
E.coli
) strains, and to evaluate potential interaction.
Methods
Antimicrobial susceptibility, minimum inhibitory concentration (MIC) and fractional inhibitory concentration index (FICI) of the bacteria were determined by disk diffusion assay, broth microdilution method and checkerboard assay, respectively. The mcr-1 mRNA expression was measured by Real-time PCR. To predict possible interactions between eugenol and MCR-1, molecular docking assay was taken.
Results
For total fourteen strains including eight colistin-resistant strains, eugenol was determined with MIC values of 4 to 8 μg/mL. Checkerboard dilution test suggested that eugenol exhibited synergistic activity when combined with colistin (FICI ranging from 0.375 to 0.625). Comparison analysis of Real-time PCR showed that synergy could significantly down-regulate expression of mcr-1 gene. A metal ion coordination bond with catalytic zinc atom and a hydrogen bond with crucial amino acid residue Ser284 of MCR-1 were observed after molecular docking, indicating antibacterial activity and direct molecular interactions of eugenol with MCR-1 protein.
Conclusions
Our results demonstrated that eugenol exhibited synergistic effect with colistin and enhanced its antimicrobial activity. This might further contribute to the antibacterial actions against colistin-resistant
E.coli
strains.
Graphical abstract
Synergistic effect of eugenol with colistin against colistin-resistant Escherichia coli isolates.
×