01.09.2009 | Original Article | Ausgabe 9/2009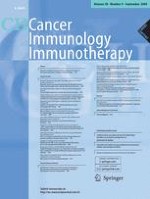 Synthesis of sialyl Lewisa (sLea, CA19-9) and construction of an immunogenic sLea vaccine
Zeitschrift:
Autoren:

Govind Ragupathi, Payal Damani, Geeta Srivastava, Om Srivastava, Steven J. Sucheck, Yoshi Ichikawa, Philip O. Livingston
Wichtige Hinweise
Govind Ragupathi and Philip O. Livingston are paid consultants and shareholders in MabVax Therapeutics, Inc., San Diego, CA 92121. The sLea vaccine is licensed to MabVax.
Abstract
Sialyl Lewisa (sLea), also termed CA19-9 antigen, is recognized by murine mAb19-9 and is expressed on the cancer cell surface as a glycolipid and as an O-linked glycoprotein. It is highly expressed in a variety of gastrointestinal epithelial malignancies including colon cancer and pancreatic cancer, and in breast cancer and small cell lung cancer, but has a limited expression on normal tissues. sLea is known to be the ligand for endothelial cell selectins suggesting a role for sLea in cancer metastases and adhesion. For these reasons, sLea may be a good target for antibody mediated immunotherapy including monoclonal antibodies and tumor vaccines. However, sLea is structurally similar to sLex and other blood group related carbohydrates which are widely expressed on polymorphonucleocytes and other circulating cells, raising concern that immunization against sLea will induce antibodies reactive with these more widely expressed autoantigens. We have shown previously both in mice and in patients that conjugation of a variety of carbohydrate cancer antigen to keyhole limpet hemocyanin (KLH) and administration of this conjugate mixed with saponin adjuvants QS-21 or GPI-0100 are the most effective methods for induction of antibodies against these cancer antigens. We describe here for the first time the total synthesis of pentenyl glycoside of sLea hexasaccharide and its conjugation to KLH to construct a sLea-KLH conjugate. Groups of five mice were vaccinated subcutaneously four times over 6 weeks. Sera were tested against sLea-HSA by ELISA and against sLea positive human cell lines adenocarcinoma SW626 and small cell lung cancer (SCLC) DMS79 by FACS. As expected, mice immunized with unconjugated sLea plus GPI-0100 or unconjugated sLea mixed with KLH plus GPI-0100 failed to produce antibodies against sLea. However, mice immunized with sLea-KLH conjugate without GPI-0100 produced low levels of antibodies and mice immunized with sLea-KLH plus GPI-0100 produced significantly higher titer IgG and IgM antibodies against sLea by ELISA. These antibodies were highly reactive by FACS and mediated potent complement mediated cytotoxicity against sLea positive SW626 and DMS79 cells. They showed no detectable cross reactivity against a series of other blood group-related antigens, including Ley, Lex, and sLex by dot blot immune staining. This vaccine is ready for testing as an active immunotherapy for treating sLea positive cancer in clinical settings.