01.12.2018 | Research | Ausgabe 1/2018 Open Access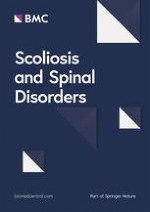 Systematic re-evaluation of intraoperative motor-evoked potential suppression in scoliosis surgery
Zeitschrift:
Autoren:

Yew Long Lo, Yam Eng Tan, Sitaram Raman, Adeline Teo, Yang Fang Dan, Chang Ming Guo
Abstract
Background
Motor- (MEP) and somatosensory-evoked potentials (SSEP) are susceptible to the effects of intraoperative environmental factors.
Methods
Over a 5-year period, 250 patients with adolescent idiopathic scoliosis (AIS) who underwent corrective surgery with IOM were retrospectively analyzed for MEP suppression (MEPS).
Results
Our results show that four distinct groups of MEPS were encountered over the study period. All 12 patients did not sustain any neurological deficits postoperatively. However, comparison of groups 1 and 2 suggests that neither the duration of anesthesia nor speed of surgical or anesthetic intervention were associated with recovery to a level beyond the criteria for MEPS. For group 3, spontaneous MEPS recovery despite the lack of surgical intervention suggests that anesthetic intervention may play a role in this process. However, spontaneous MEPS recovery was also seen in group 4, suggesting that in certain circumstances, both surgical and anesthetic intervention was not required. In addition, neither the duration of time to the first surgical manoeuver nor the duration of surgical manoeuver to MEPS were related to recovery of MEPS. None of the patients had suppression of SSEPs intraoperatively.
Conclusion
This study suggests that in susceptible individuals, MEPS may rarely occur unpredictably, independent of surgical or anesthetic intervention. However, our findings favor anesthetic before surgical intervention as a proposed protocol. Early recognition of MEPS is important to prevent false positives in the course of IOM for spinal surgery.