31.01.2020 | Original Communication | Ausgabe 5/2020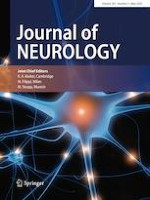 TDP-43 is associated with a reduced likelihood of rendering a clinical diagnosis of dementia with Lewy bodies in autopsy-confirmed cases of transitional/diffuse Lewy body disease
Zeitschrift:
Autoren:

Marina Buciuc, Jennifer L. Whitwell, Bradley F. Boeve, Tanis J. Ferman, Jonathan Graff-Radford, Rodolfo Savica, Kejal Kantarci, Julie A. Fields, David S. Knopman, Ronald C. Petersen, Joseph E. Parisi, Melissa E. Murray, Dennis W. Dickson, Keith A. Josephs
Abstract
Background
Trans-active response DNA-binding protein of 43 kDa (TDP-43) can be detected in up to 63% of autopsy-confirmed Lewy body disease (LBD) cases. It is unclear whether TDP-43 is associated with a decreased likelihood of a clinical diagnosis of probable dementia with Lewy bodies (pDLB) during life.
Methods
In an autopsy cohort of 395 cognitively impaired patients from the Mayo Clinic Alzheimer's Disease Research Center, we determined the presence of TDP-43 in the hippocampus [hTDP-43(+)] and examined associations between hTDP-43 and an antemortem pDLB clinical diagnosis with multiple regression analyses. For this study, given our specific question, we only counted transitional and diffuse Lewy body disease as LBD positive (LBD+).
Results
One-hundred forty-five cases (37%) were hTDP-43(+) and 156 (39%) were LBD+; co-pathology was noted in 63 (16%) cases. Patients with pDLB− LBD+ were more likely to be older, hTDP-43(+) and have high Braak neurofibrillary tangle (NFT) status compared to the pDLB+ LBD+ patients. After accounting for older age at death and high Braak NFT status, hTDP-43(+) status was associated with the absence of a clinical diagnosis of pDLB despite LBD+ status (
p
 < 0.05).
Conclusion
The absence of a diagnosis of pDLB during life in patients with LBD is associated with older age, high Braak NFT stage and hTDP-43, each feature contributing independently to a lower likelihood of a clinical diagnosis of pDLB during life.