01.12.2015 | Study protocol | Ausgabe 1/2015 Open Access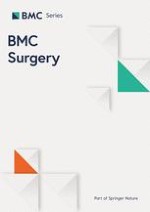 The ACCURE-trial: the effect of appendectomy on the clinical course of ulcerative colitis, a randomised international multicenter trial (NTR2883) and the ACCURE-UK trial: a randomised external pilot trial (ISRCTN56523019)
Zeitschrift:
Autoren:

Tjibbe J Gardenbroek, Thomas D Pinkney, Saloomeh Sahami, Dion G Morton, Christianne J Buskens, Cyriel Y Ponsioen, Pieter J Tanis, Mark Löwenberg, Gijs R van den Brink, Ivo AMJ Broeders, Paul HJM Pullens, Tom Seerden, Maarten J Boom, Rosalie C Mallant-Hent, Robert EGJM Pierik, Juda Vecht, Meindert N Sosef, Annick B van Nunen, Bart A van Wagensveld, Pieter CF Stokkers, Michael F Gerhards, Jeroen M Jansen, Yair Acherman, Annekatrien CTM Depla, Guido HH Mannaerts, Rachel West, Tariq Iqbal, Shrikanth Pathmakanthan, Rebecca Howard, Laura Magill, Baljit Singh, Ye Htun Oo, Dmitri Negpodiev, Marcel GW Dijkgraaf, Geert RAM D'Haens, Willem A Bemelman
Wichtige Hinweise
Competing interests
The authors declare that they have no competing interests.
Authors' contributions
TG drafted the manuscript. TG, TP, SS, DM, CB, CP, MD, GD and WA made substantial contributions to the conception and design of this study and TP, SS, DM, CB, CP, MD, GD and WA co-authored the writing of the manuscript. All other authors included in the ACCURE Collaborative Study Group participated in the design of the study and are local investigators at the participating centres. All authors edited the manuscript and read and approved the final manuscript.
Abstract
Background
Over the past 20 years evidence has accumulated confirming the immunomodulatory role of the appendix in ulcerative colitis (UC). This led to the idea that appendectomy might alter the clinical course of established UC. The objective of this body of research is to evaluate the short-term and medium-term efficacy of appendectomy to maintain remission in patients with UC, and to establish the acceptability and cost-effectiveness of the intervention compared to standard treatment.
Methods/Design
These paired phase III multicenter prospective randomised studies will include patients over 18 years of age with an established diagnosis of ulcerative colitis and a disease relapse within 12 months prior to randomisation. Patients need to have been medically treated until complete clinical (Mayo score <3) and endoscopic (Mayo score 0 or 1) remission. Patients will then be randomised 1:1 to a control group (maintenance 5-ASA treatment, no appendectomy) or elective laparoscopic appendectomy plus maintenance treatment. The primary outcome measure is the one year cumulative UC relapse rate - defined both clinically and endoscopically as a total Mayo-score ≥5 with endoscopic subscore of 2 or 3. Secondary outcomes that will be assessed include the number of relapses per patient at 12 months, the time to first relapse, health related quality of life and treatment costs, and number of colectomies in each arm.
Discussion
The ACCURE and ACCURE-UK trials will provide evidence on the role and acceptability of appendectomy in the treatment of ulcerative colitis and the effects of appendectomy on the disease course.
Trial registration