01.08.2011 | Research article | Ausgabe 4/2011 Open Access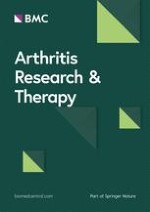 The Bruton tyrosine kinase inhibitor PCI-32765 ameliorates autoimmune arthritis by inhibition of multiple effector cells
Zeitschrift:
Autoren:

Betty Y Chang, Min Mei Huang, Michelle Francesco, Jun Chen, Jeremy Sokolove, Padmaja Magadala, William H Robinson, Joseph J Buggy
Wichtige Hinweise
Electronic supplementary material
The online version of this article (doi:
10.​1186/​ar3400
) contains supplementary material, which is available to authorized users.
Competing interests
Dr. Chang, Dr. Huang, Ms. Francesco, Dr. Chen, Ms. Magadala, and Dr. Buggy are employees of Pharmacyclics, and hold stock and/or stock options at Pharmacyclics Inc. Pharmacyclics Inc. owns patents and patent applications covering various aspects of and relating to PCI-32765. Dr. Robinson received research funding from Pharmacyclics for this study. Dr. Sokolove declares no competing interests.
Authors' contributions
BYC designed, conceived the study, coordinated the project, analyzed the data, performed statistical analysis, and wrote the manuscript. MMH, MF, PM, JC, and JS performed the experiments, analyzed the data, and contributed to the manuscript. JS, and WHR co-designed experiments and contributed to the manuscript. JJB revised the manuscript, managed the project and contributed to the manuscript. All authors read and approved the final manuscript.
Abstract
Introduction
The aim was to determine the effect of the Bruton tyrosine kinase (Btk)-selective inhibitor PCI-32765, currently in Phase I/II studies in lymphoma trials, in arthritis and immune-complex (IC) based animal models and describe the underlying cellular mechanisms.
Methods
PCI-32765 was administered in a series of murine IC disease models including collagen-induced arthritis (CIA), collagen antibody-induced arthritis (CAIA), reversed passive anaphylactic reaction (RPA), and passive cutaneous anaphylaxis (PCA). Clinical and pathologic features characteristic of each model were examined following treatment. PCI-32765 was then examined in assays using immune cells relevant to the pathogenesis of arthritis, and where Btk is thought to play a functional role. These included proliferation and calcium mobilization in B cells, cytokine and chemokine production in monocytes/macrophages, degranulation of mast cells and its subsequent cytokine/chemokine production.
Results
PCI-32765 dose-dependently and potently reversed arthritic inflammation in a therapeutic CIA model with an ED
50
of 2.6 mg/kg/day. PCI-32765 also prevented clinical arthritis in CAIA models. In both models, infiltration of monocytes and macrophages into the synovium was completely inhibited and importantly, the bone and cartilage integrity of the joints were preserved. PCI-32765 reduced inflammation in the Arthus and PCA assays.
In vitro
, PCI-32765 inhibited BCR-activated primary B cell proliferation (IC
50
= 8 nM). Following FcγR stimulation, PCI-32765 inhibited TNFα, IL-1β and IL-6 production in primary monocytes (IC
50
= 2.6, 0.5, 3.9 nM, respectively). Following FcεRI stimulation of cultured human mast cells, PCI-32765 inhibited release of histamine, PGD
2
, TNF-α, IL-8 and MCP-1.
Conclusions
PCI-32765 is efficacious in CIA, and in IC models that do not depend upon autoantibody production from B cells. Thus PCI-32765 targets not only B lymphocytes but also monocytes, macrophages and mast cells, which are important Btk-expressing effector cells in arthritis.