13.07.2020 | Original Contributions | Ausgabe 11/2020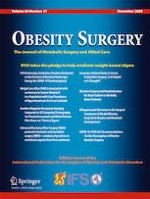 The Effect of Fasting during Ramadan on Outcomes after Bariatric Surgery at an Academic Medical Center in the Middle East
Zeitschrift:
Autoren:

Christine Tat, Juan S. Barajas-Gamboa, Gabriel Diaz Del Gobbo, Michael Klingler, Mohammed Abdallah, Javed Raza, Carlos Abril, Ricard Corcelles, Matthew Kroh
Wichtige Hinweise
Publisher's Note
Springer Nature remains neutral with regard to jurisdictional claims in published maps and institutional affiliations.
Abstract
Introduction
Ramadan is characterized by a month of fasting between dawn and sunset. Cleveland Clinic Abu Dhabi is located in the United Arab Emirates, where the majority of our patients observe Ramadan. In many practices, bariatric surgery has been delayed until after Ramadan in order to avoid postoperative complications. However, there are no studies that evaluate this theory.
Objectives
Our study aimed to evaluate perioperative outcomes between bariatric surgeries performed before/during Ramadan and at times distant to Ramadan.
Methods
All patients who underwent primary bariatric surgery at Cleveland Clinic Abu Dhabi between September 2015 and July 2019 were retrospectively reviewed. The Pre-Ramadan (PR) cohort included patients that underwent surgery during the month of Ramadan and up to 3 months before Ramadan. The Non-Ramadan (NR) cohort included patients from the remainder 8 months.
Results
Our study included 542 patients: 185 patients in the PR cohort and 357 patients in the NR cohort. Baseline characteristics were similar. There were no statistically significant differences in perioperative outcomes, including emergency department (ED) visits (23.2% PR vs. 24.4% NR,
p
 = .77), readmission rates (2.2% PR vs. 4.5% NR,
p
 = .17), reoperation (1.1% PR vs. 3.6% NR,
p
 = .09), and complications within 30 days (3.8% PR vs. 7.0% NR,
p
 = .13).
Conclusions
There is no difference among patients who undergo surgery before/during Ramadan and at times distant to Ramadan. Based on this data, there does not appear to be an increased risk of performing bariatric surgery prior to or during Ramadan in a comprehensive, multi-disciplinary program.