01.12.2015 | Original Article | Ausgabe 4/2015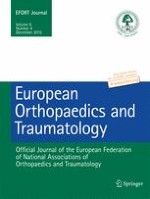 The effect of tibial component alignment on periprosthetic bone remodeling after total knee arthroplasty
Zeitschrift:
Autoren:

Haytham Abdelazim, Aya Yassin
Abstract
Introduction
Total knee arthroplasty (TKA) implantation alters mechanical loading of both femur and tibia and leads to local bone loss which can compromise the prosthesis survival and present problems at revision arthroplasty. The aim of this study is to assess the effect of tibial component alignment on periprosthetic bone remodeling after TKA.
Patients and methods
A prospective study was conducted involving 60 patients (90 knees) who underwent primary cemented posterior stabilized fixed platform TKA. Tibial component alignment was measured in the immediate postoperative X-ray, and patients were divided into three groups: group I with less than 10° of malalignment, group II with 10–15° of varus malalignment, and group III with more than 15°. Dual-energy X-ray absorptiometry (DEXA) was done within 1 week postoperatively and repeated after 12 and 24 months. Three regions of interest (ROIs) were measured: ROI 1 for the lateral tibial plateau, ROI 2 for the medial tibial plateau, and ROI 3 just distal to the tip of the prosthesis.
Results
The results of DEXA showed statistically insignificant difference in bone remodeling between group I and group II and statistically significant difference in group III compared to group I and II, with increased bone loss in ROI 1 in group III and increased bone loss in ROI 2 in groups I and II.
Conclusion
Marked tibial component malalignment more than 15° significantly alters periprosthetic bone remodeling after total knee arthroplasty; however, the effect of this abnormal remodeling on prosthetic survival needs longer follow-up.