01.12.2015 | Research article | Ausgabe 1/2015 Open Access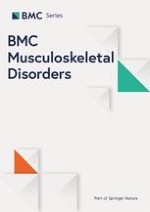 The effect of trauma and patient related factors on radial head fractures and associated injuries in 440 patients
Zeitschrift:
Autoren:

Izaäk F. Kodde, Laurens Kaas, Nick van Es, Paul G.H. Mulder, C. Niek van Dijk, Denise Eygendaal
Wichtige Hinweise
Competing interests
The authors declare that they have no competing interests.
Authors' contributions
IFK: data analysis and preparation of manuscript. LK: study design and data collection. NVE: data collection and preparation of manuscript. PM: statistical analysis and revision of manuscript. CNVD: study design and revision of manuscript. DE: study design and revision of manuscript.
Abstract
Background
Radial head fractures are commonly interpreted as isolated injuries, and it is assumed that the energy transferred during trauma has its influence on the risk on associated ipsilateral upper limb injuries. However, relationships between Mason classification, mechanism of injury, and associated injuries have been reported only once before in a relatively small population. The purpose of this study was to define whether trauma mechanism and patient related factors are of influence on the type of radial head fracture and associated injuries to the ipsilateral upper limb in 440 patients.
Methods
The radiographs and medical records of 440 patients that presented with a fracture of the radial head were retrospectively analyzed. The medical records of all patients were searched for (1) the trauma mechanism and (2) associated injuries of the ipsilateral upper limb. The mechanism of injury was classified as being low-energy trauma (LET) or high-energy trauma (HET).
Results
Associated injuries to the ipsilateral upper limb were present in 46 patients (11 %). The mean age of patients with associated injuries (52 years) was significantly higher compared to patients without associated injuries (47 years) (P = 0.038), and female patients with a radial head fracture were older than males. Injury patterns were classified as LET in 266 patients (60 %) and as HET in 174 patients. HETs were significantly more common in young men. Associated injuries were not significantly different distributed between HET versus LET (P = 0.82).
Conclusions
Injuries concomitant to radial head fractures were present in 11 % of patients and the risk for these associated injuries increases with age. Trauma mechanism did not have a significant influence on the risk of associated injuries. Complex elbow trauma in patients with a radial head fracture seems therefore to be suspected based on patient characteristics, rather than mechanism of injury.