16.04.2020 | Review | Ausgabe 6/2020 Open Access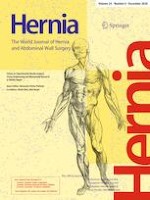 The emerging role of sarcopenia as a prognostic indicator in patients undergoing abdominal wall hernia repairs: a systematic review of the literature
Zeitschrift:
Autoren:

S. T. Clark, G. Malietzis, T. N. Grove, J. T. Jenkins, A. C. J. Windsor, C. Kontovounisios, O. J. Warren
Wichtige Hinweise
Publisher's Note
Springer Nature remains neutral with regard to jurisdictional claims in published maps and institutional affiliations.
Introduction
Method
Search strategy
A comprehensive systematic review of the literature was conducted by the first author (S.C.) under the guidance of a qualified medical librarian, in keeping with the Preferred Reporting Items for Systematic Review and Meta-Analysis (PRISMA) guidelines [
26
]. The electronic databases searched in this systematic review included Medline, Google Scholar and Cochrane Library, using the following search terms: ("sarcopenia" OR "core muscle" OR "body composition" OR "myopenia") AND ("abdominal wall reconstruction" OR "ventral hernia repair" OR "hernia" OR "complex abdominal wall") AND ("computerized tomography" OR "tomography" OR "CT-scan") AND ("outcomes" OR "length of stay" OR "discharge" OR "readmission" OR "return to theatre" OR "complications" OR "morbidity" OR "mortality" OR "hernia recurrence" OR "SSO" OR "surgical site occurrence" OR "SSI" OR "surgical site infection" OR "infection").
Selection strategy
Articles were included if they were published between 1st January 2000 and 1st December 2019. Articles were initially included based on their title and abstract. All duplicates were then reviewed and studies that failed to adhere to the inclusion criteria were excluded. Subsequently, complete copies of the full-text were obtained and analysed before confirmation of inclusion. Studies that failed to meet the inclusion criteria were excluded, with a recorded reason. Finally, the search results were supplemented by a manual search of relevant reviews, alongside their references, to ensure that all eligible studies were included in this review.
Studies were eligible for inclusion if English was the full-text language. Patients had to be > 18 years old, preoperative CT scans had to be within 1 year of patients undergoing ventral hernia repair or abdominal wall reconstruction, and preoperative comorbidities and postoperative outcomes (including hernia recurrence) of patients had to be reported. Our primary outcomes of interest were the degree of lean muscle and ventral hernia recurrence. Secondary outcomes included length of stay (LOS), surgical site infection (SSI), surgical site reoccurrence, readmission, return to theatre and other post-operative complications. Assessment of lean muscle was limited to studies reporting radiological assessment methods, including CT, magnetic resonance and dual-energy X-ray absorptiometry. Studies were excluded if they were case reports, review articles or animal studies. Furthermore, only original and published studies were eligible for inclusion.
Data extraction and analysis
Study inclusion was initially decided by SC and also discussed with TG and OW. If two papers reported on the same patient group, the larger, most recent, and highest quality publication was selected for inclusion. Discrepancies in data extraction were resolved by a third independent reviewer (GM). Selected studies were compared using a data table (Tables
1
,
2
,
3
,
4
) which included details on the number of patients in each study, study design, type of abdominal surgery, hernia characteristics, patient comorbidities, the outcome measures, follow-up period and the results of the surgery. The results were described in narrative analyses. Mendeley reference management software was used to manage citations (Mendeley Desktop v 1.19.4, London, UK).
Results
Search outcome
Overall, four studies were considered eligible for this systematic review, after applying our inclusion and exclusion criteria [
20
,
27
‐
29
]. The PRISMA flow diagram of the literature search process is shown in Fig.
1
and includes reasons for removal of studies.
×
Participant population
Altogether, 1453 patients were enrolled in the four studies. 42.8% were males and the mean age of the patient population was 57.6 years. The mean BMI was 33.4 kg/m
2
. In total, 224 patients (25.4%) out of the participant population had sarcopenia. Participant characteristics are summarised in Table
1
.
Study characteristics
Three of the studies included in this systematic review were retrospective cohort studies [
20
,
27
,
28
]. Schlosser et al. authored the only prospective study in this review [
29
]. All four studies exclusively included patients undergoing ventral hernia repair and/or abdominal wall reconstruction [
20
,
27
‐
29
].
Definition of sarcopenia
Image analysis of cross-sectional CT scans to measure core muscle area, and the diagnostic criteria used to determine sarcopenia differed between studies. The majority of studies used L3 as their chosen level for cross-sectional measurement on CT [
20
,
28
,
29
], whilst only one study used L4 as their chosen landmark [
27
]. Furthermore, two studies identified total abdominal muscle area (TAMA) by applying the skeletal muscle-specific Hounsfield Unit (HU) thresholds [
20
,
28
]. The remaining studies manually outlined the psoas muscle on a semi-automated software to determine TPA [
27
,
29
].
All four studies accounted for bone, vasculature and fat infiltration into muscle, by applying skeletal muscle-specific HU [
20
,
27
‐
29
]. Only one study did not normalise core muscle area by patient height [
27
]. All four studies stratified their study population into sarcopenic and non-sarcopenic patients [
20
,
27
‐
29
]. This stratification occurred either by quartile, in reference to study-specific cut-off values for the core-muscle area [
27
], or by gender-specific cut-off values for sarcopenia [
20
,
28
,
29
].
Hernia characteristics
There was considerable heterogeneity in recorded hernia characteristics between studies. Two studies measured mean hernia volume and average abdominal defect area [
28
,
29
], whilst Barnes et al. only recorded median hernia volume [
27
]. Furthermore, only Siegal et al. utilised the modified Ventral Hernia Working Group (mVHWG) classification to grade hernia severity [
20
]. Three of the studies recorded each patient's history of prior hernia repair [
20
,
28
,
29
], whilst only Barnes et al. and Seigal et al. specify if any concomitant procedures were performed [
27
,
28
]. Hernia characteristics are summarised in Table
3
.
Postoperative outcomes
Study outcomes related to sarcopenia are summarised in Table
4
. All four studies assessed postoperative complications [
20
,
27
‐
29
]. Overall, only two of these studies identified significant findings in terms of an increased overall risk of postoperative complications, particularly hernia recurrence and renal failure [
27
] and prolonged hospitalisation in sarcopenic patients [
28
]. Furthermore, after multivariate linear regression analysis, Barnes et al. identified a significant association between a reduction in lean muscle mass and post-operative complications (
p
 = 0.04), with sarcopenic patients having a 5.3-fold increased risk of post-operative complications, e.g. hernia recurrence, relative to patients without sarcopenia [
27
].
All four studies assessed the length of stay following surgery, readmission to theatre, surgical site infections and surgical site occurrence [
20
,
27
‐
29
]. Schlosser et al. showed hernia recurrence to be associated with both previous hernia repair and contamination, despite no association with the presence of sarcopenia [
29
]. Interestingly, Siegal et al. identified no significant associations between the presence of sarcopenia and any post-operative outcomes. However, the study did identify a significant increase in patient odds of in-hospital morbidity (1.44), per 10 cm
2
/m
2
reduction in muscle index, after adjusting for diabetes mellitus, critical care status and BMI [
20
].
Mortality outcomes
Unlike the majority of studies in the literature assessing the impact of sarcopenia on surgical outcomes, mortality was not assessed in any of the studies in this review. This reflects the benign nature of hernia repair, relative to patients with malignancies or organ failure, undergoing surgery.
Discussion
To our knowledge, this is the first systematic review assessing the role of sarcopenia as a prognostic indicator in patients undergoing VHR/AWRs. Limitations of this review include the small number of articles that met the inclusion criteria and the small patient populations, which may reduce the power of our findings. Furthermore, the retrospective nature of three of the studies limits our ability to assess causation and may introduce selection bias in patient cohorts. Finally, half of the studies occurred in tertiary referral centres, reducing the generalisability of the results to other patient populations. Despite these limitations, each study in this review demonstrated several associations between sarcopenia and certain postoperative complications, which admittedly did differ, but were all trending towards significance. Finally, considering the underreported body of literature on the effect of sarcopenia on ventral hernia repairs and abdominal wall reconstructions, this review summarises the available evidence and identifies gaps in knowledge, which may guide future research.
Conclusion
This systematic review has identified important factors contributing to the heterogeneity in results regarding the impact of sarcopenia on VHR and AWR, as found in the literature. This study emphasises the need for further, large-cohort studies, to allow for clarification of its impact on surgical outcomes and to help define different index cut-off values applicable to a benign cohort of patients, such as those awaiting VHR/AWR. Finally, further research into the reversibility of sarcopenia is required, to allow for rigorous, evidence-based preoperative management to occur and ultimately, improve surgical outcomes.
Compliance with ethical standards
Conflict of interest
The authors have no financial interests to declare in relation to the content of this article. There are no conflicts of interest to report from any of the authors.
Ethical approval
This article does not contain any studies with human participants or animals performed by any of the authors.
Research involving human participants and/or animals
This study does not include human or animal participants.
Informed consent
Informed consent was not required for this review study.
Open Access
This article is licensed under a Creative Commons Attribution 4.0 International License, which permits use, sharing, adaptation, distribution and reproduction in any medium or format, as long as you give appropriate credit to the original author(s) and the source, provide a link to the Creative Commons licence, and indicate if changes were made. The images or other third party material in this article are included in the article's Creative Commons licence, unless indicated otherwise in a credit line to the material. If material is not included in the article's Creative Commons licence and your intended use is not permitted by statutory regulation or exceeds the permitted use, you will need to obtain permission directly from the copyright holder. To view a copy of this licence, visit
http://​creativecommons.​org/​licenses/​by/​4.​0/​
.
Publisher's Note
Springer Nature remains neutral with regard to jurisdictional claims in published maps and institutional affiliations.