07.01.2016 | Original Article | Sonderheft 1/2016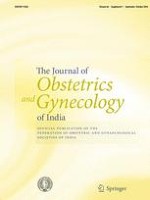 The Human Cost of Tobacco Chewing Among Pregnant Women in India: A Systematic Review and Meta-analysis
Autoren:

Rizwan A. Suliankatchi, Dhirendra N. Sinha
Wichtige Hinweise
Electronic supplementary material
The online version of this article (doi:
10.​1007/​s13224-015-0821-7
) contains supplementary material, which is available to authorized users.
Rizwan A. Suliankatchi is Assistant Professor of Community Medicine at Velammal Medical College Hospital and Research Institute; Dhirendra N. Sinha is Regional Adviser, Surveillance, (Tobacco Control) of Tobacco Free Initiative Unit at World Health Organization, Regional Office for South-East Asia.
Abstract
Background
In India, smokeless tobacco (SLT) use among pregnant women is high and its adverse effects on pregnancy outcomes have not been properly documented in.
Objectives
To collate available evidence on the association between SLT use and three adverse pregnancy outcomes, i.e. low birth weight, preterm birth and stillbirth among women in India.
Search Strategy
A systematic search was conducted in MEDLINE, IndMed, Web of Science, Google Scholar and major journals. Two authors independently reviewed the studies and extracted data.
Selection Criteria
Inclusion criteria were English articles published till December 2014, case control, case cohort or cohort, and exposure and outcome variables meeting predefined criteria. Exclusion criteria were case series, case reports, cross-sectional designs, risk estimate not restricted/adjusted for smoking with or without adjustment for other factors and duplicate data. Qualitative synthesis was followed by meta-analysis. Attributable burden was estimated using the population attributable fraction method.
Main Results
Pooled odds ratio was significant for all three outcomes: low birth weight (1.88, 95 % CI 1.38, 2.54), preterm birth (1.39: 1.01, 1.91) and stillbirth (2.85: 1.62, 5.01). We found that 0.87 million low birth weight babies, 0.19 million preterm births and 0.12 million stillbirths occurring annually in India could be attributed to maternal SLT use.
Conclusion
There was a suggestive evidence of SLT use associated with adverse pregnancy outcomes among women in India. Further studies in this field are required to generate more conclusive evidence.