01.12.2017 | Research | Ausgabe 1/2017 Open Access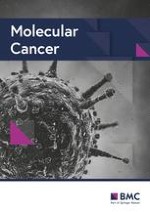 The long non-coding RNA BC200 (BCYRN1) is critical for cancer cell survival and proliferation
Zeitschrift:
Autoren:

Evan P. Booy, Ewan KS McRae, Amit Koul, Francis Lin, Sean A. McKenna
Wichtige Hinweise
Electronic supplementary material
The online version of this article (doi:
10.​1186/​s12943-017-0679-7
) contains supplementary material, which is available to authorized users.
Abbreviations
DMEM
Dulbecco's modified Eagle's media
EDTA
Ethylenediaminetetraacetic acid
EMSA
Electrophoretic mobility shift assay
FISH
Fluorescent in-situ hybridization
FMRP
Fragile X mental retardation protein
PAGE
Polyacrylamide gel electrophoresis
PBS
Phosphate buffered saline
RHAU
RNA Helicase associated with AU-rich element
RT-qPCR
Real-time quantitative PCR
Background
Methods
Cell culture and reagents
The HEK293T cell line was a gift from Dr. Thomas Klonisch; the MCF-7, MDA-MB-231, SK-BR-3, T47D and HeLa cell lines were a gift from Dr. Spencer Gibson; the A549, SK-OV-3, IMR-90 and 16HBE cells were a gift from Dr. Peter Pelka and the MCF-10A cells were provided by Dr. Bob Varelas. The primary mammary epithelial cells (HMEC) were purchased from Thermo Fisher Scientific (Ottawa, Canada). MCF-10A and HMEC cells were grown in HuMEC media (Thermo Fisher Scientific), all other cells were cultured as published previously [
2
]. Synthetic RNA and DNA primers were purchased from Integrated DNA Technologies (Coralville, IA). LNA GapmeRs were purchased from Exiqon (Woburn, MA). siRNAs targeting BC200 and non-targeting controls were purchased from Qiagen (Toronto, CA), Integrated DNA Technologies and Thermo Fisher Scientific. Plasmids for BC200 overexpression were synthesized by Genscript Inc. (Piscataway, NJ). All standard laboratory chemicals and reagents were purchased from Thermo Fisher Scientific. DL-Mevalonic acid lactone, thymidine, cisplatin and etoposide were purchased from Sigma-Aldrich (Oakville, Canada). Lovastatin, nocodazole and RO3306 were purchased from Thermo Fisher Scientific. Rabbit anti-MYC (13987), mouse anti-Caspase-8 (9746), mouse anti-Caspase-2 (2224), and rabbit anti-Caspase-9 antibodies were purchased from Cell Signaling Technologies (Danvers, MA, USA) and the mouse anti-tubulin antibody was purchased from Sigma-Aldrich (T6074).
RNA purification, RT-qPCR, and in-vitro transcription of BC200 RNA
RNA isolated from normal human tissue was purchased from Takara Bio (Mountain View, CA). RNA isolation from cultured cells was performed using the GeneJET RNA Purification kit as per the manufacturer's protocol (Thermo Fisher Scientific). RNA was quantified using a Nanodrop 2000c spectrophotometer (Thermo Fisher Scientific). BC200 was in-vitro transcribed and purified by gel filtration chromatography as previously described [
2
,
18
].
RT-qPCR analysis was performed using an Applied Biosystems StepOnePlus instrument (Thermo Fisher Scientific) with the iTaq Universal Green One-Step RT-qPCR kit (Bio-Rad, Mississauga, Canada). Reverse transcription and cycling parameters were carried out as per the manufacturer's specifications (Bio-Rad iTaq Universal). To prepare a standard curve, serial dilutions of the BC200 RNA were made in RNase-free water containing 10 ng/μl murine carrier RNA. PCR efficiency was ~93% (Additional file
1
: Figure S1). 25 ng of template RNA was used in all RT-qPCR reactions. RNA integrity was assessed following DNase digestion by electrophoresis and staining with the fluorescent dye SYBR Gold (Thermo Fisher Scientific). Reaction specificity was confirmed by melt-curve analysis as well as agarose gel electrophoresis of reaction products. No-template controls and no-RT controls amplified a non-specific product at approximately 37 cycles; this could not be avoided due to sequence constraints. The following primers were used: BC200-forward, ATAGCTTGAGCCCAGGAGTT; BC200-reverse, GCTTTGAGGGAAGTTACGCTTAT; BC200 siMUT-reverse, ATAAGACCGTAGCACACATCTAA; MALAT1-forward, GTTCTGATCCCGCTGCTATT; MALAT1-reverse, TCCTCAACACTCAGCCTTTATC; GRP94-forward, TGACTGAAGCACAGGAAGATG; GRP94-reverse, GCTACAAGGAAGGCGGAATAG; GAPDH-forward, ACCCACTCCTCCACCTTTG; GAPDH-reverse, CTCTTGTGCTCTTGCTGGG; MYC-forward, GCTGCTTAGACGCTGGATTT, MYC-reverse, GAGTCGTAGTCGAGGTCATAGTT.
Subcellular fractionation
Sub-cellular fractionation was performed with the Thermo Scientific Subcellular Protein Fraction Kit for Cultured Cells (Thermo Fisher Scientific). 20 × 106 cells were collected for fractionation with 10% set aside for total RNA isolation. RNA was extracted from 50 μl of each fraction with the GeneJet RNA Purification Kit following the RNA clean-up protocol (Thermo Fisher Scientific). RNA abundance was corrected for the RNA concentration and volume of each fraction relative to the total RNA isolation.
Northern blotting
30 μg of RNA was combined with an equal volume of denaturing RNA load dye (95% deionized formamide, 0.025% sodium dodecyl sulfate (SDS), 0.025% bromophenol blue, 0.025% xylene cyanol FF, 0.5 mM ethylenediaminetetraacetic acid (EDTA)) and heated to 95 °C for five minutes. RNA was separated on 8% denaturing Tris-borate-EDTA-Urea (TBE-Urea) polyacrylamide gels followed by transfer to positively charged nylon membranes (Roche Life Science, Laval, Canada). After transfer, RNA was cross-linked to the membrane at 240 mJ/cm2 with a Spectrolinker XL-1000 UV cross-linker (Thermo Fisher Scientific). Membranes were subsequently incubated with shaking overnight at 60 °C with double-digoxigenin (DIG) LNA probes in Ultrahyb Oligo hybridization buffer (Thermo Fisher Scientific) containing 2× blocking reagent (Roche Life Science). Membranes were washed with 2X, 0.5X and 0.1X saline sodium citrate buffer (SSC) containing 0.1% SDS for 20 min at 60 °C. Blots were blocked for 30 min in 100 mM Maleic acid, 150 mM NaCl pH 7.5, with 2X blocking reagent. Primary (Mouse anti-Dig, Jackson ImmunoResearch, West Grove, PA) and secondary antibodies (Goat anti-mouse IGG, Thermo Fisher Scientific) were diluted in the same buffer and washes were performed with phosphate buffered saline containing 0.1% Tween 20 (PBS-T). Membranes were visualized by chemiluminescence (SuperSignal West Femto, Thermo Fisher Scientific). To visualize total RNA, a duplicate gel was stained with the fluorescent nucleic acid stain SYBR Gold (Thermo Fisher Scientific). Probe sequences are as follows: BC200-5′ probe, TCGAACTCCTGGGCTCAAGCTA; BC200-3′ probe, TTGAGGGAAGTTACGCTTATT.
Plasmid, siRNA and LNA GapmeR transfection
Plasmid transfections were performed with Lipofectamine 3000 and siRNA/GapmeR transfections were performed with Lipofectamine RNAiMax according to the manufacturer's protocols (Thermo Fisher Scientific). For overexpression, BC200 with 1747 bp upstream and 609 bp downstream flanking sequence was amplified from genomic DNA and cloned into the pUC57 vector (Genscript Inc). BC200 fused to the U6 promoter was synthesized by Genscript Inc. and cloned into the pUC57 vector. BC200-siMUT with nucleotides 163-185 scrambled was synthesized in the same manner. BC200 siRNA (targeted region) and GapmeR sequences are as follows: siRNA_1, CGCCUGUAAUCCCAGCUCUCA; siRNA_2, GAGACCUGCCUGGGCAAUAUA; siRNA_3, AGGCUAAGAGGCGGGAGGAUA; siRNA_4, AUAAGCGUAACUUCCCUCAAA (Qiagen); siRNA_5 GCUAAGAGGCGGGAGGAUATT (Life Technologies, Carlsbad CA); siRNA_6, CGUAACUUCCCUCAAAGCAACAACC (Integrated DNA Technologies); GapmeR_1 (Design ID 569710-1), TTGAGGGAAGTTACGC; GapmeR_2 (Design ID 569710-2), AGGGAAGTTACGCTTA; GapmeR_3, AACTCCTGGGCTCAA (Design ID 570780) (Exiqon). siRNA_6 and GapmeR_2 were employed for all experiments unless otherwise indicated. The following additional siRNA was used: MYC_1, AUCAUUGAGCCAAAUCUUAAAAAAA (Integrated DNA Technologies).
Co-transfection of plasmid DNA and siRNA or LNA GapmeRs was performed sequentially. Plasmid DNA was transfected using Turbofect (Thermo Fisher Scientific) as per the manufacturer's protocol. 16 h following plasmid transfection cell culture media was changed and cells were incubated a further eight hours. Cells were then trypsinized, counted and reverse transfected with siRNA or LNA GapmeR at a cell density of 2 × 105 cells/mL using Lipofectamine RNAiMax (Thermo Fisher Scientific).
Viability and apoptosis assays
Cell viability was measured by the MTT assay as previously described [
19
]. Apoptosis assays were performed on a BD FACSCalibur flow cytometer (BD Biosciences, San Jose, CA) using the Dead Cell Apoptosis Kit with Annexin V Alex Fluor 488 and Propidium Iodide as per the manufacturer's protocol (Thermo Fisher Scientific).
Cell synchronization, cell cycle arrest and measurements of DNA content
MCF-10A cells were arrested at various stages of the cell cycle by treatment with 40 μM Lovastatin, 2 mM thymidine, 10 μM RO3306, and 0.1 μg/mL nocodazole as previously described [
20
]. For synchronization experiments, cells were harvested at two hour intervals for RNA extraction. Cells from each timepoint were fixed in ice cold 80% ethanol and stained in Tris-EDTA buffer containing 40 μg/mL propidium iodide (PI) and 40 μg/mL RNAse A. Cell cycle analysis was performed by measuring DNA content by PI fluorescence on the FL3 channel.
Results
Discussion
Loss of viability due to BC200 knock-down was attributable to a combination of growth inhibition and induction of apoptosis that was highly variable amongst the cell lines tested. While MDA-MB-231 cells demonstrated a substantial loss in viability, only 20-25% of cells were apoptotic 72-h post knock-down. This contrasts with MCF-7 and MCF-10A cells, where a similar viability loss was observed by MTT assay and the majority of cells were apoptotic at 72-h. There were also some cell-type specific discrepancies in the efficacy of the siRNA and LNA GapmeR knock-down approaches. This is exemplified in the HMEC cells in which at 72 h the LNA GapmeR did not result in a loss of viability compared to control while a 50% reduction in viability was observed with siRNA transfection. This trend was reversed in the context of HEK293T cells where the LNA GapmeR was significantly more effective than siRNA transfection. While knock-down efficiencies measured at 48-h were similar between the LNA and siRNA based approaches, it is possible that knock-down kinetics at earlier time points may play some role in this variation.
To gain insight into the mechanism of apoptosis induction following BC200 knock-down by siRNA, we assessed cleavage of the initiator caspases 2, 8 and 9 by western blot. While we observed an upregulation and cleavage of caspase 8 at approximately 48 h post siRNA transfection, cleavage of caspase 2 and 9 was not detected. This implicates the extrinsic apoptotic pathway as the mechanism by which BC200 knock-down is initiating programmed cell death. A further understanding of the specific mRNAs regulated by BC200 is the subject of current study and should yield insight into the mechanistic detail.
Finally, the utility of BC200 as a cancer-cell-specific therapeutic target is bolstered by results demonstrating that growth inhibition and apoptosis induction by BC200 knock-down are limited to actively dividing cells. Knock-down of BC200 followed by serum deprivation of MCF-10A cells results in only a marginal loss of viability. Although it is likely playing a critical role in the brain, tumour targeted delivery or the use of inhibitors that are unable to cross the blood-brain barrier may present as viable future therapeutic options. As such, a further understanding of the specific functions of BC200 in both a neurological and cancer cell context is essential is pursuing this lncRNA as a drug target.
Conclusions
This study for the first time quantitatively assesses expression of the BC200 RNA in a wide variety of normal human tissues, cancer cell lines and cultured primary cells. We have shown that, contrary to the current literature, BC200 expression is not restricted to a tumor and neuronal expression pattern but that BC200 expression outside of the nervous system is likely a hallmark of all actively proliferating cells. We have developed multiple effective means of BC200 knock-down that result in a loss of viability and induction of apoptosis in a broad spectrum of cultured cell types. Additionally, we have demonstrated for the first time that BC200 overexpression has no impact on cell viability or sensitivity to chemotherapeutic agents. Furthermore, the novel finding that BC200 expression is substantially reduced upon cell cycle arrest and rapidly induced upon resumption of proliferation supports the hypothesis that BC200 plays a critical role in cell cycle progression. Finally, the novel demonstration that BC200 inhibition is only toxic to actively proliferating cells supports the rationale of targeting this lncRNA for the treatment of a broad spectrum of tumor types.
Acknowledgements
We gratefully acknowledge the receipt of cell lines from Drs. Thomas Klonisch, Spencer Gibson, Peter Pelka and Bob Varelas. We thank Jolly Hipolito and Jiandong Wu for technical assistance with flow cytometry.
Funding
This work was supported by a grant from the Cancer Research Society.
Availability of data and materials
All data generated or analysed during this study are included in this published article and its supplementary information files.
Authors' contributions
EB performed the majority of experimental work as well as data analysis and authored the manuscript. EM assisted with cell synchronization experiments. AK prepared BC200 overexpression constructs and assisted in overexpression experiments. FL participated in authoring the manuscript and assisted with flow cytometry assays. SM provided funding, coordinated the project and participated in authoring of the manuscript. All authors reviewed the results and approved the final version of the manuscript.
Competing interests
The authors declare that they have no competing interests.
Consent for publication
Not applicable.
Ethics approval and consent to participate
Not Applicable.
Open Access
This article is distributed under the terms of the Creative Commons Attribution 4.0 International License (
http://​creativecommons.​org/​licenses/​by/​4.​0/​
), which permits unrestricted use, distribution, and reproduction in any medium, provided you give appropriate credit to the original author(s) and the source, provide a link to the Creative Commons license, and indicate if changes were made. The Creative Commons Public Domain Dedication waiver (
http://​creativecommons.​org/​publicdomain/​zero/​1.​0/​
) applies to the data made available in this article, unless otherwise stated.