03.01.2019 | Ausgabe 3/2019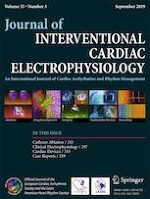 The modified ablation index: a novel determinant of acute pulmonary vein reconnections after pulmonary vein isolation
Autoren:

Yuji Wakamatsu, Koichi Nagashima, Ichiro Watanabe, Ryuta Watanabe, Masaru Arai, Naoto Otsuka, Seina Yagyu, Sayaka Kurokawa, Kimie Ohkubo, Toshiko Nakai, Yasuo Okumura
Abstract
Background
Although pulmonary vein isolation (PVI) guided by the ablation index (AI) has been well-developed, acute PV reconnections (PVRs) still occur. This study aimed to compare the prognostic performance of the modified AI and its optimal cut-off value for the prediction of acute PVRs to ensure durable PVI.
Methods
Three-dimensional left atrium (LA) voltage maps created before an extensive encircling PVI in 64 patients with atrial fibrillation (AF) (45 men, 62 ± 10 years) were examined for an association between electrogram voltage amplitude recorded from the PV–LA junction and acute post-PVI PVRs (spontaneous PVRs and/or ATP-provoked dormant PV conduction).
Results
Acute PVRs were observed in 22 patients (34%) and 33 (3%) of the 1012 PV segments. Acute PVRs were significantly associated with segments with higher bipolar voltage zones (3.23 ± 1.17 vs. 1.97 ± 1.20 mV,
P
 < 0.0001), lower mean AI values (449 [428–450] vs. 460 [437–486],
P
 = 0.05), and radiofrequency lesion gaps ≥ 6 mm (48 vs. 32%,
P
 = 0.04), but not with contact force, force–time integral, or power. We created the modified AI calculated as AI/LA bipolar voltage, and found it to be significantly lower in areas with acute PVRs than in those without (152 [109–185] vs. 256 [176–413] AU/mV,
P
 < 0.0001). Univariate analysis showed the prognostic performance of the modified AI, with an area under the curve of 0.801 (0.775–0.825), to be the highest of all the significant parameters.
Conclusions
Low values of the novel modified AI on the PV-encircling ablation line were strongly associated with acute PVRs.