01.12.2018 | Research article | Ausgabe 1/2018 Open Access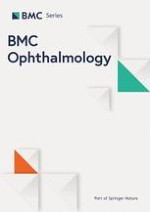 The prevalence and systemic risk factors of diabetic macular edema: a cross-sectional study from Turkey
Zeitschrift:
Autoren:

Durgul Acan, Mehmet Calan, Duygu Er, Tugba Arkan, Nilufer Kocak, Firat Bayraktar, Suleyman Kaynak
Abstract
Background
The aim of this study was to evaluate the prevalence of diabetic macular edema (DME) utilizing optical coherence tomography (OCT), and to clarify the effects of the systemic findings and risk factors on the development of DME.
Methods
This cross-sectional study was conducted in the departments of ophthalmology and endocrinology at the Dokuz Eylul University School of Medicine in Izmir, Turkey. The demographics, type and duration of diabetes mellitus, treatment modality, smoking and alcohol consumption habits, as well as the systemic blood pressure, renal functional tests, hemoglobulin A1c level, serum lipid profile, and 24-h urine albumin level were noted and statistically analyzed. The relationships between the systemic findings and DME were studied.
Results
Four-hundred and thirteen eyes of 413 diabetic patients who were examined between January 2011 and July 2012 were enrolled in this study. The prevalence of DME was 15.3% among the patients. The males exhibited DME significantly more frequently than the females (
p
 = 0.031), and the duration of diabetes was significantly longer in those patients with DME (
p
 < 0.001). Those patients without DME frequently used antihyperlipidemic drugs and had a higher level of high density lipoprotein cholesterol (
p
 = 0.040 and
p
 = 0.046, respectively). The patient's alcohol consumption, nephropathy, neuropathy, previous cataract surgery, severity of diabetic retinopathy, and insulin usage were statistically significant factors with regard to the DME prevalence.
Conclusions
This study demonstrated the prevalence of DME in Turkey by utilizing OCT. The development of DME can be avoided or limited and the response to treatment may be improved by the regulation of the DME risk factors.