01.12.2015 | Research article | Ausgabe 1/2015 Open Access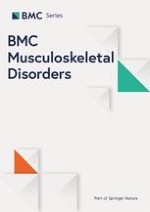 The prevalence of axial spondyloarthritis in the UK: a cross-sectional cohort study
Zeitschrift:
Autoren:

Louise Hamilton, Alex Macgregor, Andoni Toms, Victoria Warmington, Edward Pinch, Karl Gaffney
Wichtige Hinweise
Competing interests
This work was supported by an investigator-led grant from Pfizer. KG has received honoraria and/or research funding from Pfizer, UCB, MSD and Abbvie. LH has received research funding from Pfizer, and a speaker's fee and travel assistance from MSD. The other authors have no competing interests to declare.
Authors' contributions
LH reviewed patients, analysed the data and drafted the manuscript. AT reported the MRI scans. VW and EP screened and recruited participants. AM and KG designed the study, and contributed to data analysis and drafting of the manuscript. All authors read and approved the final manuscript.
Abstract
Background
Accurate prevalence data are important when interpreting diagnostic tests and planning for the health needs of a population, yet no such data exist for axial spondyloarthritis (axSpA) in the UK. In this cross-sectional cohort study we aimed to estimate the prevalence of axSpA in a UK primary care population.
Methods
A validated self-completed questionnaire was used to screen primary care patients with low back pain for inflammatory back pain (IBP). Patients with a verifiable pre-existing diagnosis of axSpA were included as positive cases. All other patients meeting the Assessment of SpondyloArthritis international Society (ASAS) IBP criteria were invited to undergo further assessment including MRI scanning, allowing classification according to the European Spondyloarthropathy Study Group (ESSG) and ASAS axSpA criteria, and the modified New York (mNY) criteria for ankylosing spondylitis (AS).
Results
Of 978 questionnaires sent to potential participants 505 were returned (response rate 51.6 %). Six subjects had a prior diagnosis of axSpA, 4 of whom met mNY criteria. Thirty eight of 75 subjects meeting ASAS IBP criteria attended review (mean age 53.5 years, 37 % male). The number of subjects satisfying classification criteria was 23 for ESSG, 3 for ASAS (2 clinical, 1 radiological) and 1 for mNY criteria. This equates to a prevalence of 5.3 % (95 % CI 4.0, 6.8) using ESSG, 1.3 % (95 % CI 0.8, 2.3) using ASAS, 0.66 % (95 % CI 0.28, 1.3) using mNY criteria in chronic back pain patients, and 1.2 % (95 % CI 0.9, 1.4) using ESSG, 0.3 % (95 % CI 0.13, 0.48) using ASAS, 0.15 % (95 % CI 0.02, 0.27) using mNY criteria in the general adult primary care population.
Conclusions
These are the first prevalence estimates for axSpA in the UK, and will be of importance in planning for the future healthcare needs of this population.