01.12.2018 | Research article | Ausgabe 1/2018 Open Access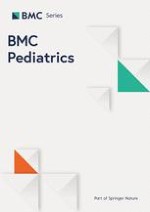 Timely initiation of complementary feeding to children aged 6–23 months in rural Soro district of Southwest Ethiopia: a cross-sectional study
Zeitschrift:
Autoren:

Bereket Yohannes, Elias Ejamo, Thilagavathi Thangavel, Mulugeta Yohannis
Abstract
Background
Poor complementary feeding practice to infants is one of risk factors for child undernutrition in Ethiopia. This would vary across the culturally and socioeconomically diverse settings in this country. Thus, this study was aimed to determine the proportion of timely initiated complementary feeding practice of women to their children aged 6–23 months in rural Soro district in Southwest Ethiopia.
Methods
A community based crossectional survey was conducted in Soro district from August to September in 2015. Randomly selected 543 women having children aged 6–23 months were the final sampling units for this study. First, local administrative units (kebeles) of residents were randomly selected from such lists in the district. Secondly, the sample size was proportionally allocated to each selected kebele by population sizes. Individual households were selected by systematic random technique. Data was collected by using a structured questionnaire through face to face interview. Descriptive statistics was done for univariate results, and we applied bivariate logistic regression to look for crude association, and multivariate logistic regression to model predictors with effect measures and 95% confidence intervals (CI). Statistical significance was decaled at
P
 < 0.05.
Results
The proportion of timely initiated complementary feeding was 34.3% at 95%CI: (30.31, 38.29) in this study. Secondary and above education levels of respondents (AOR = 2.25 95%CI: 1.17, 4.30) and husbands (AOR = 2.33 at 95% CI: 1.06, 5.14), and maternal Postnatal Care visits (AOR = 1.94 at 95% CI: 1.19, 3.16) were found independent predictors for timely initiated complementary feeding practice in this study.
Conclusions
Timely complementary feeding practice in the study area was low compared to the standard recommends for it. Education in general and equipping child bearing women with specific messages on Infant and Child Feeding Practices may improve infant and child feeding practice in the area. Optimizing utilization of Postnatal Care by post partum women and including specific advices on complementary feeding are recommended.