01.12.2015 | Research article | Ausgabe 1/2015 Open Access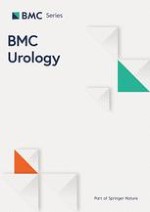 Tramadol for premature ejaculation: a systematic review and meta-analysis
Zeitschrift:
Autoren:

Marrissa Martyn-St James, Katy Cooper, Eva Kaltenthaler, Kath Dickinson, Anna Cantrell, Kevan Wylie, Leila Frodsham, Catherine Hood
Wichtige Hinweise
Electronic supplementary material
The online version of this article (doi:
10.​1186/​1471-2490-15-6
) contains supplementary material, which is available to authorized users.
Competing interests
The authors declare that they have no competing interests.
Authors' contributions
MMSJ and KC selected studies for inclusion and undertook quality assessment and data extraction. MMSJ undertook the meta-analysis and drafted the manuscript. KC, EK, KW, LF and CH commented on the manuscript. All authors read and approved the final manuscript.
Abbreviations
DSM
Diagnostic and Statistical Manual of Mental Disorders
IIEF
International Index of Erectile Function
IELT
Intra-vaginal ejaculatory latency time
RCT
Randomised controlled trial
SSRI
Selective serotonin reuptake inhibitor.
Background
Premature ejaculation (PE) is commonly defined by a short ejaculatory latency, a perceived lack of ejaculatory control; both related to self-efficacy; and distress and interpersonal difficulty [
1
]. PE can be either lifelong (primary), present since first sexual experiences, or acquired (secondary), beginning later [
2
]. The recently updated International Society of Sexual Medicine's Guidelines for the Diagnosis and Treatment of Premature Ejaculation (PE) propose that PE is a male sexual dysfunction characterised by ejaculation within about one minute of vaginal penetration (lifelong PE) or a reduction in latency time to ≤3 minutes (secondary PE), the inability to delay ejaculation, and negative personal consequences [
3
].
The treatment of PE should attempt to alleviate concern about the condition as well as increase sexual satisfaction for the patient and the partner [
4
]. Available treatment pathways for the condition are varied and treatments may include both behavioural and/or pharmacological interventions. Tramadol is a centrally acting analgesic agent that combines opioid receptor activation and re-uptake inhibition of serotonin and noradrenaline, prescribed off-label for the treatment of PE. Dapoxetine (a selective serotonin re-uptake inhibitor) is currently the only approved oral drug to treat PE. In May 2009, the US Food and Drug Administration released a warning letter about tramadol's potential to cause addiction and difficulty in breathing [
5
]. Tramadol has previously been evaluated by three systematic reviews [
6
–
8
], two of which have pooled data in a meta-analysis [
7
,
8
]. The search methodology and inclusion criteria vary across these reviews. Of the two reviews including a meta-analysis, one [
7
] pooled data across different study types (observational studies and RCTs) using a mean difference [
7
]. One review pooled IELT effect estimates across studies using a standardised mean difference [
8
]. The European Association of Urology guidelines for the management of PE summarise that tramadol has shown a moderate beneficial effect with a similar efficacy as dapoxetine. However, that the beneficial effect of tramadol in PE is yet not supported by a high level of evidence [
9
].
The aim of this study was to systematically review the evidence base for tramadol in the management of PE, by summarising evidence from randomised controlled trials (RCTs) and reporting a mean difference meta-analysis of RCT IELT data. The review addressed the question "in men with premature ejaculation, what is the clinical effectiveness of tramadol as compared with a non-active comparators or other treatments, evaluated in randomised controlled trials". The review is registered on PROSPERO 2013:CRD42013005289. Available from
http://​www.​crd.​york.​ac.​uk/​PROSPERO/​display_​record.​asp?​ID=​CRD42013005289
.
Methods
The review was undertaken in accordance with the general principles recommended in the Preferred Reporting Items for Systematic Reviews and Meta-Analyses (PRISMA) statement [
10
].
Searches
The following databases were searched from inception to 5 August 2014 for published and unpublished research evidence: MEDLINE; Embase; Cumulative Index to Nursing and Allied Health Literature (CINAHL); The Cochrane Library including the Cochrane Systematic Reviews Database (CDSR), Cochrane Controlled Trials Register (CCRT), Database of Abstracts of Reviews of Effects (DARE) and the Health Technology Assessment (HTA) database; ISI Web of Science (WoS), including Science Citation Index, and the Conference Proceedings Citation Index-Science. Full search terms are reported elsewhere [
11
]. The U.S. Food and Drug Administration (FDA) website and the European Medicines Agency (EMA) website were also searched. Existing systematic reviews were also checked for eligible studies. All citations were imported into Reference Manager Software and any duplicates deleted. The MEDLINE search strategy is presented as an Additional file
1
.
Study selection
Searches were screened for potentially relevant studies by one reviewer and a subset checked by a second reviewer (and a check for consistency undertaken). Full texts were screened by two reviewers. Details of studies identified for inclusion were extracted using a data extraction sheet.
Eligible studies
RCTs in adult men with PE that evaluated tramadol were eligible for inclusion. Randomised crossover design studies were excluded to avoid double counting of participants in the meta-analysis. Theses and dissertations were not included. Non-English publications were included where sufficient data could be extracted from an English-language abstract or tables.
Outcomes
The primary outcome was intra-vaginal ejaculatory latency time (IELT). Other outcomes included sexual satisfaction, control over ejaculation, relationship satisfaction, self-esteem, quality of life, treatment acceptability and adverse events.
Data extraction
One reviewer performed data extraction of each included study. All numerical data were then checked by a second reviewer.
Methodological quality of studies
Methodological quality of RCTs was assessed using the Cochrane Collaboration risk of bias assessment criteria [
12
]. We classified RCTs as being at overall 'low' or 'high' risk of bias if they were rated as such for each of three key domains - allocation concealment, blinding of outcome assessment and completeness of outcome data (attrition <30%).
Data synthesis
Where possible, between-group differences for direct comparisons (e.g., tramadol
vs.
placebo) were pooled across trials in a pairwise meta-analysis using Cochrane RevMan software (version 5.2) (RevMan 2012 [
13
]). Continous variables were analysed as a mean difference (MD) and dichotomous variables as a risk ratio (RR). No subgroup or sensitivity analyses were planned. For comparisons where there was little apparent clinical heterogeneity and the
I
2
value (
I
2
statistic [
14
]) was 40% or less, a fixed-effect model was applied. Random-effects models were applied where
I
2
value was >40%. Between-group effect estimates were considered significant at p < 0.05. Where >5 RCT comparisons were available, publication bias was assessed by visual inspection of funnel plots.
Ethical approval and consent from patients
The project was not primary research involving humans or animals but was a secondary analysis of human subject data available in the public domain.
Results
Discussion
Single RCT evidence also suggests that tramadol is significantly more effective than sildenafil, lidocaine gel, or behavioural therapy on IELT in men with PE. However, reporting of the methodological quality is limited in terms of concealment of group allocation and blinding of the outcome assessment across all RCTs included by this review.
Although our database search strategy was comprehensive, the possibility of a publication bias cannot be discounted. Insufficient numbers of RCT comparisons were available for any meaningful assessment of funnel plot symmetry to be undertaken. Nonetheless, although the RCTs identified for inclusion were of unclear methodological quality, it could be considered unlikely that any additional unpublished data for the effects of tramadol compared with placebo would contribute significantly to the overall findings of this review.
The RCTs evaluating tramadol identified for inclusion evaluated treatments over four to 12 weeks and none reported a long-term follow-up on efficacy and safety outcomes, including addiction potential. However, more important is a requirement for clearer evaluations of the relationship between treatment-related increases in IELT, ejaculatory control and sexual satisfaction associated with tramadol. Adverse event data suggest that tramadol is associated with a number of adverse events, but that these appear tolerable. However, the long-term use of tramadol for the treatment of PE in terms of a safety profile including addiction potential is unclear from the current evidence base.
Conclusion
Tramadol appears more effective than placebo or behavioural therapy in the treatment of PE. However, these findings should be interpreted with caution given the observed levels of between-study heterogeneity and the methodological quality of the available evidence.
Acknowledgements
KC and AC designed the search strategy and ran the electronic searches for the project. KW, LF and CH acted as clinical advisors.
This work was funded by NIHR Evaluation, Trials and Studies Coordinating Centre (NETSCC).
The views and opinions expressed therein are those of the authors and do not necessarily reflect those of the Health Technology Assessment Programme, NIHR, NHS or the Department of Health.
This article is published under license to BioMed Central Ltd. This is an Open Access article distributed under the terms of the Creative Commons Attribution License (
http://​creativecommons.​org/​licenses/​by/​4.​0
), which permits unrestricted use, distribution, and reproduction in any medium, provided the original work is properly credited. The Creative Commons Public Domain Dedication waiver (
http://​creativecommons.​org/​publicdomain/​zero/​1.​0/​
) applies to the data made available in this article, unless otherwise stated.
Competing interests
The authors declare that they have no competing interests.
Authors' contributions
MMSJ and KC selected studies for inclusion and undertook quality assessment and data extraction. MMSJ undertook the meta-analysis and drafted the manuscript. KC, EK, KW, LF and CH commented on the manuscript. All authors read and approved the final manuscript.