01.12.2015 | Research article | Ausgabe 1/2015 Open Access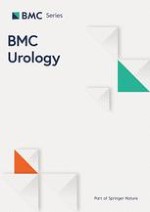 A discrepancy of penile hemodynamics during visual sexual stimulation observed by near-infrared spectroscopy
Zeitschrift:
Autoren:

Evgenii Kim, Songhyun Lee, Zephaniah Phillips V, Jae G Kim
Wichtige Hinweise
Evgenii Kim and Songhyun Lee contributed equally to this work.
Competing interests
The authors declare that they have no competing interests.
Authors' contributions
EK and SL were primarily responsible for experiment design, sensor design, data processing, and overall understanding of how to apply NIRS for the purpose of erectile dysfunction. This specific research was conducted with the assistance of ZPV and guidance of the corresponding author JGK. JGK has participated in many projects involving application of various biomedical optical imaging techniques toward diagnosis, rehabilitation, and critical care. All authors participated in the discussion about the proposal and contributed to the analysis of the results. All authors read and approved the final manuscript.
Abstract
Background
In this paper, we observed a discrepancy of penile hemodynamics dependent on location by using near infrared spectroscopy (NIRS) sensor, and showcase NIRS as a potentially suitable sensor in supplementing the diagnosis and treatment of erectile dysfunction.
Methods
To observe the effect that location has on penile hemodynamics, the NIRS sensor was placed on the top and the side of genital organ, and oxy- (HbO), deoxy-(RHb), and total (HbT) hemoglobin concentration changes were acquired. Our results from 6 healthy subjects show that hemodynamic changes vary depending on where the probe was placed. To observe a statistical difference between the signals, a Wilcoxon signed-rank test was performed.
Results
The result shows a significant difference (
p
 < 0.05) between concentration changes of RHb and HbT depending on the probes' location. Moreover, the sensor placed on the top of the organ shows a rise of HbO and HbT concentration while RHb concentration decreased. However, hemodynamics from the side of the organ showed that RHb concentration increased along with HbO.
Conclusions
The outcomes demonstrates an ability of NIRS to be sensitive enough to detect the different hemodynamic changes in various locations of a healthy male genital organ during visual sexual stimulation. The results also show the importance of sensor location on the genital organ for the resulting hemodynamic changes. We can foresee our results as a way for clinicians to obtain more accurate hemodynamic measurements from the penis, and also show the likelihood for NIRS enhanced diagnosis tool of male erectile dysfunction over the current standards.