01.12.2016 | Primary research | Ausgabe 1/2016 Open Access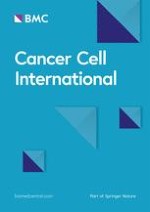 Transcription factor CCAAT/enhancer binding protein alpha up-regulates microRNA let-7a-1 in lung cancer cells by direct binding
Zeitschrift:
Autoren:

Yani Lin, Jian Zhao, Xiaoyan Hu, Lina Wang, Liming Liang, Weiwen Chen
Wichtige Hinweise
Yani Lin and Jian Zhao contributed equally to this work
Abstract
Aims
The transcription factor CCAAT/enhancer binding protein α (C/EBPα) and microRNA (miRNA) let-7a-1 act as tumor suppressors in many types of cancers including lung cancer. In the present study, we aim to investigate whether let-7a-1 is a novel important target of C/EBPα in lung cancer cells.
Methods
The DNA sequence of the 2.1 kb let-7a-1 promoter was analyzed with MatInspector 4.1 (
http://​www.​genomatix.​de
). Human lung cancer cell lines A549 and H1299, and human cervical cancer cell line Hela were used for transfection. Total RNA was extracted from cells using Trizol reagent and pri-let-7a-1 mRNA expression was measured using quantitative real-time polymerase chain reaction. Western blotting was performed to detect C/EBPα protein expression. To test whether C/EBP-α could up-regulate the expression level of let-7a at transcription level, dual-luciferase reporter gene assay was carried out. To determine whether C/EBPα could bind let-7a-1 promoter, electrophoretic mobility shift assay was employed. To further confirm the direct targeting let-7a-1 promoter by C/EBPα, chromatin immunoprecipitation was used.
Results
Both C/EBPα and let-7a-1 were down-regulated in lung cancer A549 and H1299 cells, but up-regulated in Hela cells. Transfection and reporter gene assay showed that C/EBPα increased the expression of let-7a-1 at transcription level. Bioinformatics assay identified four putative C/EBP elements within let-7a-1 promoter. Dual-luciferase reporter gene, electrophoretic mobility shift assay and chromatin immunoprecipitation assays demonstrated that these four elements mediated the up-regulation effect of C/EBPα on let-7a-1.
Conclusions
The present study reveals that decreased C/EBPα contributes to the down-regulation of miRNA let-7a-1 in lung cancer cells.