01.12.2017 | Research article | Ausgabe 1/2017 Open Access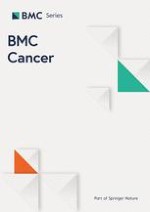 Treatment patterns and survival in an exhaustive French cohort of pazopanib-eligible patients with metastatic soft tissue sarcoma (STS)
Zeitschrift:
Autoren:

Isabelle Ray-Coquard, Olivier Collard, Françoise Ducimetiere, Mathieu Laramas, Florence Mercier, Nadine Ladarre, Stephanie Manson, Bertrand Tehard, Sébastien Clippe, Jean-Philippe Suchaud, Laetitia Stefani, Jean-Yves Blay
Wichtige Hinweise
Electronic supplementary material
The online version of this article (doi:
10.​1186/​s12885-017-3057-3
) contains supplementary material, which is available to authorized users.
Abbreviations
EMS
Evaluation Médicale et Sarcome or Medical Evaluation and Sarcoma
ESMO
European Society for Medical Oncology
GIST
Gastrointestinal stromal tumor
GSF-GETO
Groupe Sarcome Français – Groupe d'Etude des Tumeurs Osseuses
NETSARC
Network of regional Expert Centres for the management of STS
PFS
Progression free survival
Background
Soft tissue sarcomas (STS) are rare malignant tumours, accounting for less than one percent of malignant neoplasms [
1
]. In France, the incidence of STS is estimated at 6 per 100,000 per year with 4000 new cases diagnosed each year [
2
]. With more than 50 distinct histological subtypes described [
3
–
5
], management of STS is challenging due to its rarity and clinical heterogeneity. Consequently, non-concordance in diagnosis occurs in 30% of cases [
6
], potentially resulting in delayed or inappropriate treatment.
Half of all STS patients with intermediate or high-grade tumors develop metastases [
7
]. Median survival is approximately 12 to 18 months from the time of metastatic diagnosis [
8
,
9
], and has changed little in the past two decades. Five-year survival is no more than 8% in metastatic patients [
8
].
Chemotherapy is based on first-line anthracyclines, most commonly doxorubicin [
10
], providing objective responses in 12–26% of patients [
11
,
12
]. The recent development of targeted therapies such as the tyrosine kinase inhibitor pazopanib [
13
] has led to hopes that the therapeutic prospects of patients with metastatic STS may be improved. Pazopanib demonstrated efficacy in a randomised, double-blind, placebo-controlled Phase III trial (PALETTE) in patients with metastatic STS (except adipocytic sarcoma) who received prior chemotherapy [
14
]. However, there are limited observational data on real-world treatment of patients with metastatic STS [
15
–
17
].
This study's primary objective was to describe treatment patterns of patients with metastatic STS for whom pazopanib is labelled in a prospective registry of patients with a primary diagnosis of sarcoma. Secondary objectives were to determine survival rates and benefit of systemic treatment on survival.
Methods
The EMS (Evaluation Médicale & Sarcome or Medical Evaluation and Sarcoma) study was an observational, prospective survey of patients with sarcoma from an exhaustive patient cohort in the Rhône-Alpes region of France over a 2-year period from March 2005 to March 2007. This sub-analysis considered all incident cases of metastatic soft tissue sarcoma (STS) identified in the database, corresponding to the subtypes eligible for the PALETTE study. Data was collected from patient records.
EMS patient database
The EMS study was initiated as a comprehensive prospective population-based cohort in Rhône-Alpes in 2005, including STS, GIST and osteosarcoma. The primary referral centres for inclusion in the database are the 43 pathology laboratories in this region, which accounts for 10% of the French population. All cases underwent central histological review [
18
]. Methods for data collection in the EMS database have been described previously [
18
,
19
].
Patients
All patients with a diagnosis of primary sarcoma included in the EMS database between 1st March 2005 and 28th February 2007 with metastatic disease (initially or during follow up) were included in the present study.
The current analysis was restricted to patients with histological subtypes included in the PALETTE trial of pazopanib (i.e. key excluded subtypes: adipocytic sarcoma, osteosarcoma, gastrointestinal stromal tumour) [
14
].
Data collection
Data in the EMS database included demographics, medical history, diagnostic procedures, primary tumour characteristics, functional status at diagnosis (ECOG score [
20
]), treatments (surgery, radiotherapy or chemotherapy) and outcomes according to the French 2006 SOR guidelines [
20
], follow-up recurrence and survival. It was noted whether patients were treated in an expert centre [
21
,
22
] to describe the likely extent of collaboration between a multi-disciplinary specialist STS medical team. Data was prospectively extracted from the patient records covering the period from first inclusion into the EMS database (between March 2005 and March 2007) until a cut-off point of February 2012.
Statistical analysis
Data presentation is principally descriptive. Quantitative data are presented as mean values ± standard deviation or median values [range] and categorical data as frequency counts and percentages. Overall survival, progression-free survival and time to recurrence were analysed using time-to-event analysis to generate Kaplan-Meier estimates with 95% confidence intervals. Missing data were not replaced.
Results
Discussion
The present study reported treatment patterns and outcomes in patients with metastatic STS, excluding liposarcoma and GIST, enrolled in an exhaustive prospective patient database in real life.
Systemic chemotherapy was the most common first-line strategy for patients with metastatic STS with 68.8% of patients receiving at least one line.
The study's major strengths is the exhaustive coverage using a patient registry, across a large French region, the prospective design allowing complete documentation of the disease, and the naturalistic setting in routine clinical practice in France. This analysis was limited to patients with STS with relapsing disease with subtypes included in the PALETTE study.
Conclusion
In conclusion, this study demonstrates that treatment of metastatic STS in everyday practice in Rhone-Alpes region is highly heterogeneous and associated with poor outcomes. This highlights the significant unmet medical needs with respect to standardised treatment protocols and more effective therapies.
Acknowledgements
We would like to thank all patients, centres and investigators who participated in this study, including Marie-Pierre SUNYACH, Dominique DRAMAIS-MARCEL, Cécile AGOSTINI, Jocelyne PROVENCAL, Pierre MEEUS, Lionel VINCENT, Blaha BELGADI, and Dominique BEAL ARDISSON. We would also like to thank Adam DOBLE who provided editorial assistance for this manuscript.
Funding
Funding for this study was provided by GlaxoSmithKline (GSK). As of 1 March 2015, GSK's oncology products were transferred to Novartis. Novartis did not provide any further funding for this study. NL, SM and BT are former employees of GSK and were involved in the design, execution and result interpretation, but this was done in full collaboration with other authors. This research had been fully completed by the date of transfer of GSK's oncology products to Novartis. EMD Serono provided funding for the initial registry set-up in 2005 as described in Ducimetiere et al. [
19
] but were not involved in the current study. Hoffmann-La Roche, EMD Serono and Novartis have provided no funding for the research described here, nor have they had input in the design or execution of this research.
Availability of data and material
The datasets analysed during the current study are available from the corresponding author on reasonable request.
Authors' contributions
Study concepts and study design were by IRC, FM, NL, BT and JYB. Data collection was performed by IRC, OC, FD ML, SC, JPS, LS and JYB. Statistical analyses were performed by BT, IRC and FM. Data analysis and interpretation was by IRC, FD, FM, NL, SM, BT and JYB. All authors have reviewed and approved the manuscript.
Competing interests
IRC, OC, FD, ML, SC, JPS, LS and JYB have no competing interests. FM is a majority stakeholder of Stat Process who received a grant from GSK to perform this research. NL, SM and BT are former employees of GSK and NL and SM own shares in GSK. NL and SM are current employees of Novartis and own shares.
Consent for publication
Not applicable
Ethics approval and consent to participate
The EMS study received approval from the French national ethics committee and from the Commission Nationale de l'Informatique et des Libertés (CNIL, French national data protection body) in agreement with French law. There was no human experimentation and no consequences on patient management; therefore, no institutional review board review was required. Following approval by the French ethics committee, all physicians were asked to inform their patients that their medical records would be reviewed. No additional consent was required for an observational study. Patient records and information were anonymized and de-identified prior to analysis.
Open Access
This article is distributed under the terms of the Creative Commons Attribution 4.0 International License (
http://​creativecommons.​org/​licenses/​by/​4.​0/​
), which permits unrestricted use, distribution, and reproduction in any medium, provided you give appropriate credit to the original author(s) and the source, provide a link to the Creative Commons license, and indicate if changes were made. The Creative Commons Public Domain Dedication waiver (
http://​creativecommons.​org/​publicdomain/​zero/​1.​0/​
) applies to the data made available in this article, unless otherwise stated.