01.12.2019 | Case Report | Ausgabe 1/2019 Open Access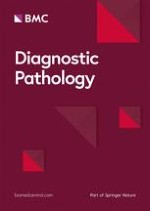 Triple malignancy (NET, GIST and pheochromocytoma) as a first manifestation of neurofibromatosis type-1 in an adult patient
Zeitschrift:
Autoren:

Karolina Poredska, Lumir Kunovsky, Vladimir Prochazka, Jiri Dolina, Miroslava Chovancova, Jakub Vlazny, Tomas Andrasina, Michal Eid, Petr Jabandziev, Petr Kysela, Zdenek Kala
Wichtige Hinweise
Publisher's Note
Springer Nature remains neutral with regard to jurisdictional claims in published maps and institutional affiliations.
Abstract
Background
Neurofibromatosis type-1 (NF1), also called von Recklinghausen disease, is a rare genetic disease which can lead to the development of benign or even malignant tumors. NF1 is mostly diagnosed in children or early adolescents who present with clinical symptoms. A curative therapy is still missing and the management of NF1 is based on careful surveillance. Concerning tumors which affect the gastrointestinal tract in patients with NF1, the most common is a gastrointestinal stromal tumor (GIST).
Case presentation
We present a case of a 58-year-old adult patient with dyspeptic symptoms who was incidentally diagnosed with triple malignancy (pheochromocytoma, multiple GISTs of small intestine and an ampullary NET) as a first manifestation of NF1. The patient underwent surgical treatment (adrenalectomy and pancreaticoduodenectomy) with no complications and after 2 years remains in oncological remission.
Conclusion
NF1 is a rare genetic disease which can cause various benign or malignant tumors. The coincidence of GIST and NET is almost pathognomonic for NF1 and should raise a suspicion of this rare disorder in clinical practice.