01.12.2017 | Research | Ausgabe 1/2017 Open Access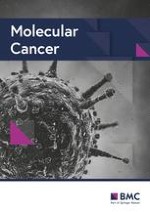 Tumor-derived CXCL5 promotes human colorectal cancer metastasis through activation of the ERK/Elk-1/Snail and AKT/GSK3β/β-catenin pathways
Zeitschrift:
Autoren:

Jingkun Zhao, Baochi Ou, Dingpei Han, Puxiongzhi Wang, Yaping Zong, Congcong Zhu, Di Liu, Minhua Zheng, Jing Sun, Hao Feng, Aiguo Lu
Wichtige Hinweise
Electronic supplementary material
The online version of this article (doi:
10.​1186/​s12943-017-0629-4
) contains supplementary material, which is available to authorized users.
Abstract
Background
Metastasis is a major cause of death in human colorectal cancer patients. However, the contribution of chemokines in the tumor microenvironment to tumor metastasis is not fully understood.
Methods
Herein, we examinined several chemokines in colorectal cancer patients using chemokine ELISA array. Immunohistochemistry was used to detect expression of CXCL5 in colorectal cancer patients tissues. Human HCT116 and SW480 cell lines stably transfected with CXCL5, shCXCL5 and shCXCR2 lentivirus plasmids were used in our in vitro study. Immunoblot, immunofluorescence and transwell assay were used to examine the molecular biology and morphological changes in these cells. In addition, we used nude mice to detect the influence of CXCL5 on tumor metastasis in vivo.
Results
We found that CXCL5 was overexpressed in tumor tissues and associated with advanced tumor stage as well as poor prognosis in colorectal cancer patients. We also demonstrated that CXCL5 was primarily expressed in the tumor cell cytoplasm and cell membranes, which may indicate that the CXCL5 was predominantly produced by cancer epithelial cells instead of fibroblasts in the tumor mesenchyme. Additionally, overexpression of CXCL5 enhanced the migration and invasion of colorectal cancer cells by inducing the epithelial-mesenchymal transition (EMT) through activation of the ERK/Elk-1/Snail pathway and the AKT/GSK3β/β-catenin pathway in a CXCR2-dependent manner. The silencing of Snail and β-catenin attenuated CXCL5/CXCR2-enhanced cell migration and invasion in vitro. The elevated expression of CXCL5 can also potentiate the metastasis of colorectal cancer cells to the liver in vivo in nude mice intrasplenic injection model.
Conclusion
In conclusion, our findings support CXCL5 as a promoter of colorectal cancer metastasis and a predictor of poor clinical outcomes in colorectal cancer patients.