01.12.2017 | Case report | Ausgabe 1/2017 Open Access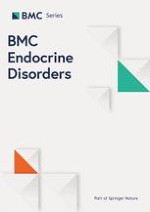 Two novel
LHX3

mutations in patients with combined pituitary hormone deficiency including cervical rigidity and sensorineural hearing loss
Zeitschrift:
Autoren:

Khushnooda Ramzan, Bassam Bin-Abbas, Lolwa Al-Jomaa, Rabab Allam, Mohammed Al-Owain, Faiqa Imtiaz
Abstract
Background
Congenital combined pituitary hormone deficiency (CPHD) is a rare heterogeneous group of conditions. CPHD-type 3 (CPHD3; MIM# 221750) is caused by recessive mutations in
LHX3
, a LIM-homeodomain transcription factor gene. The isoforms of LHX3 are critical for pituitary gland formation and specification of the anterior pituitary hormone-secreting cell types. They also play distinct roles in the development of neuroendocrine and auditory systems.
Case presentation
Here, we summarize the clinical, endocrinological, radiological and molecular features of three patients from two unrelated families. Clinical evaluation revealed severe CPHD coupled with cervical vertebral malformations (rigid neck, scoliosis), mild developmental delay and moderate sensorineural hearing loss (SNHL). The patients were diagnosed with CPHD3 based on the array of hormone deficiencies and other associated syndromic symptoms, suggestive of targeted
LHX3
gene sequencing. A novel missense mutation c.437G > T (p. Cys146Phe) and a novel nonsense mutation c.466C > T (p. Arg156Ter), both in homozygous forms, were found. The altered Cys146 resides in the LIM2 domain of the encoded protein and is a phylogenetically conserved residue, which mediates LHX3 transcription factor binding with a zinc cation. The p. Arg156Ter is predicted to result in a severely truncated protein, lacking the DNA binding homeodomain.
Conclusions
Considering genotype/phenotype correlation, we suggest that the presence of SNHL and limited neck rotation should be considered in the differential diagnosis of CPHD3 to facilitate molecular diagnosis. This report describes the first
LHX3
mutations from Saudi patients and highlights the importance of combining molecular diagnosis with the clinical findings. In addition, it also expands the knowledge of
LHX3
-related CPHD3 phenotype and the allelic spectrum for this gene.