01.12.2015 | Research article | Ausgabe 1/2015 Open Access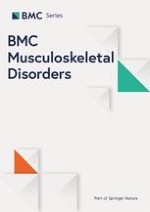 Unipedicular versus bipedicular percutaneous vertebroplasty for osteoporotic vertebral compression fractures: a prospective randomized study
Zeitschrift:
Autoren:

Liang Zhang, Zhongjun Liu, Jingcheng Wang, Xinmin Feng, Jiandong Yang, Yuping Tao, Shengfei Zhang
Wichtige Hinweise
Competing interests
The authors declare that they have no competing interests.
Authors' contributions
LZ participated in study design/data analysis and drafted the manuscript, and acted as first author. ZJL participated in the design of the study, analyzed the radiographic and functional measurements. XMF participated in the design of the study and carried out the operation. JCW assisted with funding, supervised the study design and data analysis, revised the manuscript and acted as the corresponding author. YPT assisted with clinical examinations and surgery. JDY participated in the design of the study and coordinated the research groups. SFZ participated in data collection and interpretation. All authors read and approved the final manuscript.
Abstract
Background
Percutaneous vertebroplasty (PVP) typically involves conventional lower-viscosity cement injection via bipedicular approach. Limited evidence is available comparing the clinical outcomes and complications in treating osteoporotic vertebral compression fractures (OVCFs) with PVP using high-viscosity cement through unipedicular or bipedicular approach.
Methods and design
Fifty patients with OVCFs were randomly allocated into two groups adopting unipedicular or bipedicular PVP. The efficacy of unipedicular and bipedicular PVP was assessed by comparing operation time, X-ray exposure time, incidence of complications, vertebral height restoration, and improvement of the visual analogue scale (VAS), Oswestry disability index (ODI) and Short Form-36 (SF-36) General Health Survey scores.
Results
The mean operative and exposure time to X-rays in the unipedicular PVP group was less than that of the bipedicular group (p < 0.05). No statistically significant differences were observed in the VAS score, ODI score, SF-36 score, cement leakage rate or vertebral height restoration between the two groups (p > 0.05).
Conclusion
Unipedicular and bipedicular PVP are safe and effective treatments for OVCF. Compared with bipedicular PVP, unipedicular PVP entails a shorter surgical time and lower X-ray irradiation.