12.04.2019 | Original Article | Ausgabe 1/2019 Open Access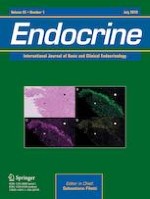 Upregulated VEGF and Robo4 correlate with the reduction of miR-15a in the development of diabetic retinopathy
Zeitschrift:
Autoren:

Qiaoyun Gong, Fuqiang Li, Jia'nan Xie, Guanfang Su
Wichtige Hinweise
Supplementary information
Publisher's note:
Springer Nature remains neutral with regard to jurisdictional claims in published maps and institutional affiliations.
Abstract
Purpose
Vascular endothelial growth factor (VEGF) plays implicated roles in diabetic retinopathy (DR). The role of roundabout 4 (Robo 4) in angiogenesis and vasculogenesis is controversial; however, the interdependent relationship between these two factors has not been studied in DR. This study determined the colocalization of VEGF and Robo4 in fibrovascular membranes (FVM) from patients with proliferative diabetic retinopathy (PDR). MicroRNA (miRNA)-mediated modulation of VEGF and Robo4 was explored in diabetic rats and ARPE-19 tissue culture cells under hyperglycemia.
Methods
VEGF and Robo4 co-expression in the FVM was analyzed using immunofluorescence. VEGF and Robo4 levels were determined in diabetic retinas and ARPE-19 tissue culture cells under high glucose using western blotting and RT-qPCR. MicroRNA agomir was intraocularly injected to increase miR-15a expression and downregulate VEGF and Robo4 levels in diabetic retinas.
Results
VEGF and Robo4 colocalization in FVM vessels was observed. Increased VEGF levels were consistent in diabetic retinas and ARPE-19 tissue culture cells cultured under hyperglycemia. Robo4 decreased in ARPE-19 tissue culture cells exposed to hyperglycemia for 72 h, whereas it increased in diabetic rat retinas. Several miRNAs were differentially expressed during DR progression. Furthermore, miR-15a agomir injection inhibited high levels of VEGF and Robo4 in diabetic retinas.
Conclusions
VEGF and Robo4 were co-expressed in FVMs from PDR patients. In the early stages of DR, VEGF was upregulated and contributed to DR development, whereas, in the late stage of DR, VEGF and Robo4 worked together to aggravate DR progression. However, miR-15a could downregulate VEGF and Robo4 to ameliorate DR development.