01.12.2017 | Research | Ausgabe 1/2017 Open Access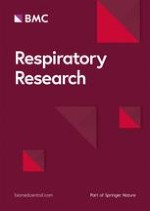 Upregulation of citrullination pathway: From Autoimmune to Idiopathic Lung Fibrosis
Zeitschrift:
Autoren:

Katerina D. Samara, Athina Trachalaki, Eliza Tsitoura, Anastasios V. Koutsopoulos, Eleni D. Lagoudaki, Ismini Lasithiotaki, George Margaritopoulos, Panagiotis Pantelidis, Eleni Bibaki, Nikolaos M. Siafakas, Nikolaos Tzanakis, Athol U. Wells, Katerina M. Antoniou
Wichtige Hinweise
Electronic supplementary material
Abstract
Background
Increased protein citrullination and peptidylarginine deiminases (PADIs), which catalyze the citrullination process, are central in Rheumatoid arthritis pathogenesis and probably involved in the initial steps towards autoimmunity. Approximately, 10% of RA patients develop clinically significantly ILD. A possible shared role of protein citrullination in rheumatoid arthritis associated interstitial lung disease (RA-ILD), and idiopathic pulmonary fibrosis (IPF) pathogenesis remains unclear.
Methods
We evaluated PADI2 and PADI4 mRNA expression in bronchoalveolar lavage fluid (BALF) cells of 59 patients with IPF, 27 patients RA-ILD and 10 healthy controls. PADI 2 and 4 expression was analyzed by western blot and immunohistochemistry. Citrullinated protein levels were also quantified.
Results
PADI4 mRNA and protein levels were higher in RA-ILD and IPF than controls. Furthermore, PADI4 mRNA levels showed an increase among smokers in RA-ILD. PADI4 expression was detected in granulocytes and macrophages in all groups, with the strongest cytoplasmic expression observed in granulocytes in RA-ILD and IPF. PADI2 mRNA and immunostaining of BAL cells, were similar in all groups among smokers. Overall, stronger staining was observed in current smokers. Citrullinated peptides were significantly increased in IPF compared to RA-ILD and controls. In RA-ILD, protein citrullination strongly correlated with PADI4 expression and anti-citrullinated protein antibodies (ACPAs).
Conclusions
These results suggest that the citrullination pathway is upregulated in IPF and in RA-ILD.