25.08.2020 | New Concept | Ausgabe 11/2020 Open Access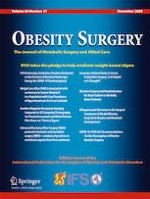 Use of a Laparoscopic Witzel Gastrostomy Without Gastropexy in Bariatric and General Surgery
Zeitschrift:
Autoren:

Joshua Davies, Luise Pernar, Danielle Eble, Adolfo Z. Fernandez, Brian Carmine, Donald Hess, Cullen Carter
Wichtige Hinweise
Publisher's Note
Springer Nature remains neutral with regard to jurisdictional claims in published maps and institutional affiliations.
Abstract
Background
Gastrostomy placement is the preferred means of long-term enteral feeding for patients who cannot eat by mouth. During laparoscopic gastrostomy, it is standard to perform gastropexy, apposing visceral and parietal peritoneum. In some settings, due to altered anatomy from prior surgery, direct apposition of the stomach to the abdominal wall is not possible. This study reports a series of cases where laparoscopic gastrostomy was performed via a Witzel approach without gastropexy.
Methods
A retrospective chart review was performed of all patients at a tertiary academic medical center who underwent Witzel gastrostomy without gastropexy over a 3-year period. In each case, an 18-French tube was placed into the fundus of the stomach and secured with a purse-string suture. A 5-cm serosalized Witzel tunnel was created around the tube using running silk suture. No gastropexy was performed.
Results
Six patients underwent 7 Witzel gastrostomy procedures. In three cases, patients had undergone prior major upper abdominal surgery where adhesive disease prevented gastropexy. In the other four cases, the patients had undergone prior gastric bypass with antecolic antegastric position of the roux limb. No patient suffered leak of gastric contents into the peritoneum, and there were no postoperative complications or mortality related to the gastrostomy.
Conclusion
In cases where enteral access is necessary, and where the stomach cannot reach the anterior abdominal wall for gastropexy due to prior surgeries, a Witzel gastrostomy without gastropexy is a safe option which resulted in no morbidity or mortality in our series.