24.01.2018 | Ausgabe 7/2018 Open Access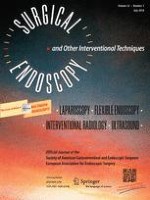 Variation in laparoscopic anti-reflux surgery across England: a 5-year review
Zeitschrift:
Autoren:

Thomas R. Palser, Adam Ceney, Alex Navarro, Simon Swift, David J. Bowrey, Ian J. Beckingham
Abstract
Background
Laparoscopic anti-reflux surgery (LARS) remains central to the management of gastro-oesophageal reflux disease but the scale and variation in provision in England is unknown. The aims of this study were firstly to examine the processes and outcomes of anti-reflux surgery in England and compare them to national guidelines and secondly to explore potential variations in practice nationally and establish peer benchmarks.
Methods
All adult patients who underwent LARSin England during the Financial years FY 2011/2012–FY 2016/2017 were identified in the Surgeon's Workload Outcomes and Research Database (SWORD), which is based on the Hospital Episode Statistics (HES) data warehouse. Outcomes included activity volume, day-case rate, short-stay rate, 2- and 30-day readmission rates and 30-day re-operation rates. Funnel plots were used to identify national variation in practice.
Results
In total, 12,086 patients underwent LARS in England during the study period. The operation rate decreased slightly over the study period from 5.2 to 4.6 per 100,000 people. Most outcomes were in line with national guidelines including the conversion rate (0.76%), 30-day re-operation rate (1.43%) and 2- and 30-day readmission rates (1.65 and 8.54%, respectively). The day-case rate was low but increased from 7.4 to 15.1% during the 5-year period. Significant variation was found, particularly in terms of hospital volume, and day-case, short-stay and conversion rates.
Conclusion
Although overall outcomes are comparable to studies from other countries, there is significant variation in anti-reflux surgery activity and outcomes in England. We recommend that units use these data to drive local quality improvement efforts.