01.12.2021 | Research article | Ausgabe 1/2021 Open Access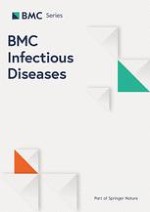 Variation in
Mycobacterium tuberculosis

population structure in Iran: a systemic review and meta-analysis
Zeitschrift:
Autoren:

Shima Hadifar, Abolfazl Fateh, Vahid Pourbarkhordar, Seyed Davar Siadat, Shayan Mostafaei, Farzam Vaziri
Wichtige Hinweise
Publisher's Note
Springer Nature remains neutral with regard to jurisdictional claims in published maps and institutional affiliations.
Abbreviations
MTBC
Mycobacterium tuberculosis
complex
Mtb
Mycobacterium tuberculosis
MIRU-VNTR
mycobacterial interspersed repetitive unit-variable number tandem repeat
PRISMA
Preferred Reporting Items for Systematic Reviews and Meta-Analyses
STROBE
Strengthening the Reporting of Observational Studies in Epidemiology
EPTB
Extrapulmonary tuberculosis
Background
Tuberculosis (TB) remains the most lethal infectious disease with an estimated rate of 1.4 million deaths in 2018 [
1
]. Human-adapted
Mycobacterium tuberculosis
complex (MTBC), as a causative agent of TB infection, belong to eight phylogenetic branches with a phylogeographical population structure [
2
,
3
]. These lineages include Indo-Oceanic lineage (Lineage 1), East Asian (Lineage 2), Central Asian (Lineage 3), Euro-American (Lineage 4), Ethiopian (Lineage 7), known as
Mycobacterium tuberculosis
sensu stricto, West African 1 (Lineage 5) and West African 2 (Lineage 6), referred to as
Mycobacterium africanum
and Lineage 8 (L8) which geographically restricted to the African Great Lakes region [
2
–
4
].
Different studies have shown that genomic differences among MTBC lineages or sublineages can affect the clinical and epidemiological characteristics of TB infection [
5
–
8
]. In recent decades, some
Mycobacterium tuberculosis
(
Mtb
) lineages/sublineages have attracted wide attention due to certain features such as transmission potential, pathogenic properties and association with drug resistance [
9
,
10
]. Lineages 2 and 4 are widely distributed and seem to have a higher pathogenic power compared to geographically restricted lineages [
2
,
11
,
12
]. In West and South Asia, a sharp increase has been documented in the circulation of certain sublinages such as NEW-1 (Lineage 4) and CAS (Lineage 3) strains that are prone to emerging as resistant clones [
13
–
15
]. This growing increase seems be more important in Iran with the national average TB rate of 14 cases per 100,000 population, due to the influx of Afghan refugees and population growth [
1
]. Accordingly, acquiring comprehensive insight into the dynamics of
Mtb
population structure is an essential step to adopt effective TB control strategies and improve therapeutic methods and vaccines.
Therefore, the current systematic review and meta-analysis was conducted to determine (1) the overall prevalence of
Mtb
genotypes/sublineages and (2) to determine the dominant multidrug-resistant (MDR)
Mtb
genotypes in TB patients in Iran.
Methods
Results
Discussion
Conclusions
In summary, this systematic review showed that
Mtb
population are genetically diverse in Iran and the NEW1 (L4) and West African (L5/6) genotypes had the highest and lowest pooled prevalence rates, respectively. This type of evidence can contribute to better clinical and epidemiological management of
Mtb
infections. Also, there is a need for further in-depth studies to gain a deeper insight into the national diversity of
Mtb
populations and their drug resistance pattern.
Acknowledgments
None to disclose.
Ethics approval and consent to participate
Not applicable.
Consent for publication
Not applicable.
Competing interests
The authors declare that they have no conflicting interests.
Open Access
This article is licensed under a Creative Commons Attribution 4.0 International License, which permits use, sharing, adaptation, distribution and reproduction in any medium or format, as long as you give appropriate credit to the original author(s) and the source, provide a link to the Creative Commons licence, and indicate if changes were made. The images or other third party material in this article are included in the article's Creative Commons licence, unless indicated otherwise in a credit line to the material. If material is not included in the article's Creative Commons licence and your intended use is not permitted by statutory regulation or exceeds the permitted use, you will need to obtain permission directly from the copyright holder. To view a copy of this licence, visit
http://​creativecommons.​org/​licenses/​by/​4.​0/​
. The Creative Commons Public Domain Dedication waiver (
http://​creativecommons.​org/​publicdomain/​zero/​1.​0/​
) applies to the data made available in this article, unless otherwise stated in a credit line to the data.
Publisher's Note
Springer Nature remains neutral with regard to jurisdictional claims in published maps and institutional affiliations.