01.12.2018 | Research | Ausgabe 1/2018 Open Access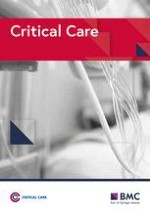 Variation of poorly ventilated lung units (silent spaces) measured by electrical impedance tomography to dynamically assess recruitment
Zeitschrift:
Autoren:

Savino Spadaro, Tommaso Mauri, Stephan H. Böhm, Gaetano Scaramuzzo, Cecilia Turrini, Andreas D. Waldmann, Riccardo Ragazzi, Antonio Pesenti, Carlo Alberto Volta
Wichtige Hinweise
Electronic supplementary material
Abbreviations
AHRF
Acute hypoxemic respiratory failure
ARDS
Acute respiratory distress syndrome
ComplROIn
Regional dynamic compliance for each region of interest
Crs
Respiratory system compliance
ΔEELI
Change in end-expiratory lung impedance
ΔEELV
Change in end-expiratory lung volume
EIT
Electrical impedance tomography
FiO2
Fraction of inspired oxygen
NSS
Nondependent silent spaces
PaCO2
Partial pressure of carbon dioxide in arterial blood
PPao
Pressure signal recorded at the airway opening
PaO2
Partial pressure of oxygen in arterial blood
PEEP
Positive end-expiratory pressure
PEEPtot
Total positive end-expiratory pressure
SAPS II
Simplified Acute Physiology Score II
SOFA
Sequential Organ Failure Assessment
VILI
Ventilator-induced lung injury
VTDEP
Dependent lung tidal volume
VTNON-DEP
Nondependent lung tidal volume
Background
Ventilation of patients with acute hypoxemic respiratory failure (AHRF) and acute respiratory distress syndrome (ARDS) [
1
] should provide adequate gas exchange while minimizing the risk of ventilator-induced lung injury (VILI) [
2
,
3
]. Mechanisms underlying VILI include tidal collapse and reopening of unstable lung units, overstretch of the "baby lung" [
4
], and heterogeneous ventilation that increases regional transpulmonary pressure [
5
–
7
]. Strategies aimed at "opening the lung and keeping it open" by means of alveolar recruitment may reduce the risk of VILI [
3
,
5
,
8
], and positive end-expiratory pressure (PEEP) set to stabilize re-aerated alveoli while avoiding overdistention might be a key aspect of protective ventilation [
9
]. Despite a recent large trial that showed the potential harmfulness of a maximal recruitment strategy [
10
], other studies in which researchers compared higher versus lower PEEP levels did not yield definitive results [
11
,
12
]. One reason could have been the pathophysiologic heterogeneity of ARDS, with large interindividual variations in the extent and distribution of alveolar collapse that reduced clinical benefits of arbitrarily higher PEEP levels [
13
]. Thus, a bedside method of accurately assessing recruitment and overdistention might be fundamental to the design of future studies applying personalized "optimum" PEEP levels [
2
].
Lung recruitment may be evaluated by performing pressure-volume (P-V) curves of the respiratory system [
14
]. Several studies have validated the P-V curve method as a reliable estimate of PEEP-induced changes in aerated lung volume [
15
–
20
]. However, P-V curves are relatively complex to perform, time-consuming, noncontinuous, and not feasible in spontaneously breathing patients.
Recently, electrical impedance tomography (EIT) has been introduced as a bedside radiation-free technique that provides dynamic regional information on changes in lung aeration, ventilation, and heterogeneity [
21
]. EIT can identify and quantify breath-by-breath poorly ventilated lung units, also called
silent spaces
. In a recent study, researchers suggested that in postoperative patients with healthy lungs, silent spaces in the dependent lungs may indicate atelectasis, whereas increase in silent spaces in the nondependent lungs may correspond to overdistention [
22
].
In this study, we compared, in intubated patients with AHRF and ARDS, lung recruitment measured by P-V curve analysis with dynamic changes in poorly ventilated units of the dorsal lung (dependent silent spaces [DSSs]) assessed by EIT. We hypothesized that changes in DSS might represent a dynamic bedside measure of lung recruitment and collapse.
Methods
Results
Discussion
The main findings of this study are as follows: (1) PEEP-induced changes in EIT-derived poorly ventilated areas in the dependent lungs (DSSs) correlate with recruitment determined by the P-V curve, and (2) the reduction of DSS, obtained by progressive increases of PEEP, is associated with a more homogeneous distribution of ventilation and improved regional compliance of the dependent portions of the lung; however, higher levels of PEEP were associated with lower compliance of the nondependent part of the lung, which might indicate overdistention.
The use of silent spaces as a bedside method to determine the recruitment of functional lung volume has many advantages compared with the P-V curve because the monitoring is breathwise and continuous, providing local information. Furthermore, it does not require the use of high doses of sedatives or muscle relaxants.
Conclusions
Changes in EIT-derived DSSs induced by PEEP correlate with lung recruitment assessed by the P-V curve. Although the averaged maximal reduction of DSSs in our population was obtained at a PEEP of 15 cmH 2O, worsening of regional nondependent lung compliance suggested some degree of overdistention. EIT seems to be a promising bedside tool for dynamic detection of regional changes in lung volumes due to recruitment and overdistention, potentially yielding useful information to select personalized PEEP.
Acknowledgements
We thank the nursing and medical staff of the intensive care unit at Sant'Anna Hospital, Ferrara, Italy.
Funding
The present study was supported by institutional funding from the University of Ferrara, Italy. Swisstom AG supported the study by granting use of an electrical impedance tomography system free of charge, but it had no role in study conception, design, and completion.
Availability of data and materials
Data-sharing consent was not obtained. The Ethics Committee of Ferrara (Italy) advised us that public sharing of our data would not be compatible with Italian legislation. Requests for data access may be sent to m.voci@ospfe.it. Such requests will be evaluated individually by the research office at San'Anna Hospital (Ferrara) according to the Italian personal data act.
Ethics approval and consent to participate
The study was approved by the ethics committee of the Sant'Anna Hospital, Ferrara, Italy (protocol no. 141285), and registered with ClinicalTrials.gov (NCT02907840).
Consent for publication
Written informed consent was obtained from the patients or their relatives for publication of their individual details. The consent forms are held by the authors and are available for review by the Editor-in-Chief of this journal.
Competing interests
The authors declare that they have no competing interests.
Publisher's Note
Springer Nature remains neutral with regard to jurisdictional claims in published maps and institutional affiliations.
Open Access
This article is distributed under the terms of the Creative Commons Attribution 4.0 International License (
http://​creativecommons.​org/​licenses/​by/​4.​0/​
), which permits unrestricted use, distribution, and reproduction in any medium, provided you give appropriate credit to the original author(s) and the source, provide a link to the Creative Commons license, and indicate if changes were made. The Creative Commons Public Domain Dedication waiver (
http://​creativecommons.​org/​publicdomain/​zero/​1.​0/​
) applies to the data made available in this article, unless otherwise stated.