01.12.2015 | Research article | Ausgabe 1/2015 Open Access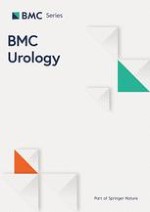 Virtual reality suturing task as an objective test for robotic experience assessment
Zeitschrift:
Autoren:

Michael A. Liss, Christopher J. Kane, Tony Chen, Joel Baumgartner, Ithaar H. Derweesh
Wichtige Hinweise
Competing interests
Dr. Christopher J. Kane is a consultant for Intuitive Surgical, Inc. Dr. Ithaar H. Derweesh is an investigator in a study sponsored by GlaxoSmithKline. Michael A. Liss, Tony Chen and Joel Baumgartner have no conflicts of interest or financial ties to disclose.
Authors' contributions
ML conceived and designed the study along with data collection, statistical analysis, and writing the manuscript. CK provided support for the study, assisted with data collection, and edited the manuscript. TC performed data collection and formation of tables. JB performed statistical analysis. ID performed oversight of the project and manuscript editing. All authors read and approved the final manuscript.
Abstract
Background
We performed a pilot study using a single virtual-simulation suturing module as an objective measurement to determine functional use of the robotic system. This study will assist in designing a study for an objective, adjunctive test for use by a surgical proctor.
Methods
After IRB approval, subjects were recruited at a robotic renal surgery course to perform two attempts of the "Tubes" module without warm-up using the Da Vinci® Surgical Skills Simulator™. The overall MScore (%) from the simulator was compared among various skill levels to provide construct validity. Correlation with MScore and number of robotic cases was performed and pre-determined skill groups were tested. Nine metrics that make up the overall score were also tested via paired
t
test and subsequent logistic regression to determine which skills differed among experienced and novice robotic surgeons.
Results
We enrolled 38 subjects with experience ranging from 0- < 200 robotic cases. Median time to complete both tasks was less than 10 min. The MScore on the first attempt was correlated to the number of previous robotic cases (R2 = 0.465; p = 0.003). MScore was different between novice and more experienced robotic surgeons on the first (44.7 vs. 63.9; p = 0.005) and second attempt (56.0 vs. 69.9; p = 0.037).
Conclusion
A single virtual simulator exercise can provide objective information in determining proficient use of the robotic surgical system.