01.12.2016 | Research | Ausgabe 1/2016 Open Access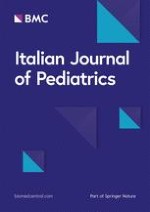 Wasting and stunting are still prevalent in children with sickle cell anaemia in Lagos, Nigeria
Zeitschrift:
Autoren:

Christopher I. Esezobor, Patricia Akintan, Adebola Akinsulie, Edamisan Temiye, Titilope Adeyemo
Wichtige Hinweise
Competing interest
The authors declare that they have no competing interest.
Authors' contributions
CIE, AA and ET conceptualised the study and wrote the study protocol; CIE, PA and TA collected the data; TA performed laboratory analysis; CIE analysed the data and wrote the draft manuscript; all authors reviewed and approved the final manuscript for submission.
Abstract
Background
Sickle cell anaemia (SCA) is associated with growth failure. However, recent reports indicate high rates of overweight or obesity among children with SCA in developed countries. It is unclear whether overweight or obesity is also common in children with SCA in developing countries. The objectives of the study were to determine the prevalence of overweight or obesity, wasting and stunting and identify predictors of wasting and stunting among children with SCA in Nigeria.
Method
Children with SCA attending a public-funded tertiary hospital clinic were studied. Weight, height, haemoglobin, haemoglobin fractions and white cell count were measured. Anthropometric values were converted to z scores and referenced to the WHO Child Growth Standards and WHO Reference 2007. The proportions with wasting, stunting and overweight or obesity were determined. Regression analysis was used to identify the predictors of wasting and stunting.
Results
Two hundred and thirty-three children [mean (±SD) age of 9.0 (±4.0) years, 60.9 % males] participated in the study. Wasting, stunting and overweight or obesity rates were 22.7 %, 11.6 % and 1.7 %, respectively. Boys and children from low socioeconomic class were 3.25 (1.45-7.29) and 2.42 (1.14-5.18) times more likely to be wasted respectively, while both wasting and stunting were more common with increasing age [adjusted OR of 1.33 (1.18-1.51) and 1.15 (1.01-1.32) respectively]. Sickle cell-related complications and intake of oral penicillin and hydroxyurea were not associated with wasting and stunting.
Conclusion
Overweight or obesity is uncommon while wasting and stunting are still prevalent in children with SCA in Lagos. The strongest predictors of wasting and stunting were older age, male gender and low socioeconomic status.