22.05.2019 | Original Research | Ausgabe 7/2019 Open Access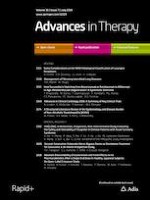 YINGLONG: A Multicenter, Prospective, Non-Interventional Study Evaluating the Safety and Tolerability of Ticagrelor in Chinese Patients with Acute Coronary Syndrome
Zeitschrift:
Autoren:

Xin Du, Yang Zheng, Ping Yang, Shuren Ma, Zaixin Yu, Xi Su, Junbo Ge, Maria Leonsson-Zachrisson, Xianhong Wang, Jing Sun, Lu Bai, Chang-Sheng Ma, the YINGLONG study investigators
Wichtige Hinweise
Electronic supplementary material
A full list of the YINGLONG study investigators can be found in Supplementary File 4.
Enhanced Digital Features
Abstract
Introduction
Ticagrelor is an oral, reversible, direct-acting P2Y12 receptor inhibitor approved for the prevention of cardiovascular events in acute coronary syndrome (ACS). In China, drug intensive monitoring regulations for new drugs require additional safety data post-approval.
Methods
YINGLONG, a single-arm, phase-IV, 1-year, non-interventional study, described the safety of ticagrelor 90 mg twice daily in Chinese patients (≥ 18 years) with ACS treated with ≥ 1 dose of ticagrelor. Primary outcomes were the incidence of adverse events (AEs), in particular, PLATelet inhibition and patient Outcomes (PLATO)-defined bleeding AEs, and other serious AEs during the 1-year follow-up. Key secondary outcomes were the incidence of major cardiovascular events.
Results
Patients (
n
 = 1041, median age 61.0 years) had started ticagrelor and had post-dose data. Median duration of ticagrelor treatment was 357 days; 577 patients (55.4%) completed 1-year ticagrelor treatment; 973 patients (93.5%) completed 1-year follow-up. Overall, 38.7% of patients reported an AE during treatment. The most common AEs were dyspnea (
n
 = 37, 3.6%), petechiae (
n
 = 30, 2.9%), and chest discomfort (
n 
= 28, 2.7%). Serious AEs, excluding bleeding, were reported in 9.8% of patients during treatment. Incidence of PLATO-defined major bleeding events was 1.1% (
n
 = 11). Of the 21 deaths that occurred during the study (8 post-treatment), 1 was a fatal bleed. Major cardiovascular events were reported in 37 patients (3.6%).
Conclusions
Ticagrelor was well tolerated with a low rate of PLATO-defined major bleeding events in Chinese ACS patients. Safety results were consistent with the known ticagrelor profile.
Trial Registration
ClinicalTrials.gov identifier, NCT02430493.
Funding
AstraZeneca Investment (China) Co., Ltd.