Erschienen in: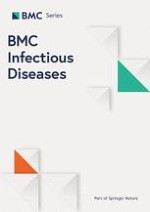 Open Access 01.12.2022 | Research
A clinical prediction tool for extended-spectrum β-lactamase-producing Enterobacteriaceae urinary tract infection
Erschienen in: BMC Infectious Diseases | Ausgabe 1/2022
Abstract
Background
Prevalence of extended-spectrum beta-lactamase-producing-Enterobacteriaceae (ESBL-E) has risen in patients with urinary tract infections. The objective of this study was to determine explore the risk factors of ESBL-E infection in hospitalized patients and establish a predictive model.
Methods
This retrospective study included all patients with an Enterobacteriaceae-positive urine sample at the first affiliated hospital of Jinan university from January 2018 to December 2019. Antimicrobial susceptibility patterns of ESBL-E were analyzed, and multivariate analysis of related factors was performed. From these, a nomogram was established to predict the possibility of ESBL-E infection. Simultaneously, susceptibility testing of a broad array of carbapenem antibiotics was performed on ESBL-E cultures to explore possible alternative treatment options.
Results
Of the total 874 patients with urinary tract infections (UTIs), 272 (31.1%) were ESBL-E positive. In the predictive analysis, five variables were identified as independent risk factors for ESBL-E infection: male gender (OR = 1.607, 95% CI 1.066–2.416), older age (OR = 4.100, 95% CI 1.678–12.343), a hospital stay in preceding 3 months (OR = 1.872, 95% CI 1.141–3.067), invasive urological procedure (OR = 1.810, 95% CI 1.197–2.729), and antibiotic use within the previous 3 months (OR = 1.833, 95% CI 1.055–3.188). In multivariate analysis, the data set was divided into a training set of 611 patients and a validation set of 263 patients The model developed to predict ESBL-E infection was effective, with the AuROC of 0.650 (95% CI 0.577–0.725). Among the antibiotics tested, several showed very high effectiveness against ESBL-E: amikacin (85.7%), carbapenems (83.8%), tigecycline (97.1%) and polymyxin (98.2%).
Conclusions
The nomogram is useful for estimating a UTI patient's likelihood of infection with ESBL-E. It could improve clinical decision making and enable more efficient empirical treatment. Empirical treatment may be informed by the results of the antibiotic susceptibility testing.
Hui Liu and Suishan Qiu contributed equally to this work
Publisher's Note
Springer Nature remains neutral with regard to jurisdictional claims in published maps and institutional affiliations.
Background
A key component of managing ESBL-E infection is to predict its incidence. A highly accurate predictive model can help identify high-risk patients and prevent or reduce the incidence of ESBL-E infection. However, neither test indicators nor imaging tests can yet predict ESBL-E infection. Therefore, this study aims to determine the prevalence and risk factors of ESBL-E infection in hospitalized patients with urinary tract infections and to establish a reliable predictive model.
Methods
Study population
This study was conducted at a university-affiliated tertiary hospital with 1900 beds. This study was conducted at the first affiliated hospital of Jinan university, a university-affiliated tertiary hospital in Guangzhou, China with 1900 beds. All cases from January 2018 to December 2019 in which all of a patient's urine cultures tested positive for Enterobacteriaceae were reviewed. All non-repetitive mid-stream urine (MSU) samples obtained during the study period with a positive urine culture of either
E. coli
or
K. pneumoniae
were included in the analysis. In the annual microbiological epidemiology report of our hospital, 95% of the urine bacterial culture results were
E coli
and
K. pneumoniae,
and
Proteus mirabilis
and
Salmonella
accounted for the remaining 5%. However, no strains of ESBL positive were found in the strains of
Proteus mirabilis
and
Salmonella
, so these two types of bacteria were not included in this study. UTIs were defined in accordance with uniform diagnostic criteria of the European Society of Clinical Microbiology and Infectious Diseases (ESCMID) [
11
]. Patients were excluded from the study if their medical records were missing data or if one or more of their samples were multi-microorganismal-defined as containing two or more pathogenic species in the same urine culture medium.
Data collection and definitions of variables
To identify predictors of urinary tract infections caused by ESBL-E, we referred to previously reported studies on risk factors related to multidrug resistance, including ESBL. Demographic and clinical data were obtained from medical records. The collected variables included age, gender, comorbid diseases, hospital admission history, undergoing an invasive urological procedure (such as intubation or catheterization), treatment history, and antibiotic use in the past 3 months. Comorbid diseases included chronic diabetes mellitus, chronic renal failure, immunodeficiency, neoplasia, recurrent UTIs, and severe underlying disease. Hospital admission history included such items as admission times, hospital stays in preceding 3 months, and admission history to the medical department, surgical department, or ICU.
Susceptibility testing
The drug susceptibility test used the paper diffusion method in accordance with the Clinical Laboratory Standards Institute (CLSI). The minimum inhibitory concentration (MIC) was passed through the Vitek 2 automated microbial identification system (Vitek AMS; bioMerieux Vitek Systems Inc., Hazelwood, Missouri). All results met the CLSI Enterobacteriaceae standards. Six types of antibacterial agents were tested: β-lactam/β-lactam Enzyme inhibitor combination (cefoperazone-sulbactam, piperacillin-tazobactam), cephalexin (ceftazolin, cefotaxime, ceftazidime, ceftriaxone, cefepime), carbapenem (imipenem, meropenem), aminoglycoside (amikacin), folate pathway inhibitor (trimethoprim-sulfamethoxazole), and fluoroquinolone (Levofloxacin) (Sigma-Aldrich, St. Louis, Missouri). Quality control was performed on
E. coli
(ATCC 25922) and
K. pneumoniae
(ATCC 700603) [
12
].
Statistical analysis
As age and admission times are continuous variables with non-normal distribution, both were grouped into categories (0–18 years, 18–60 years, 60+ years); thus, all data existed in the form of categorical variables. We first numbered 874 patients, randomly sampled the numbers with the "sample" command in R software, and used the "set. Seed" and ind <-sample (n, 0.7 * n) commands at the same time. The randomly sampled patients were divided into a training set and a validation set. 611 patients (70% of the study) were randomly selected as the training set, and 263 patients (the other 30%) were selected as the validation set. Internal verification was carried out using a resampling-based method. Pearson's chi-square test or Fisher's exact test was used to compare differences between data sets, as appropriate, and for univariate analysis in the training set. All variables with a
P
value less than 0.1 in the univariate analysis were input into the multivariate analysis to further select the variables in the predictive model.
A predictive model was established by applying multivariate logistic regression with variables selected from multivariate analysis. The risk predictive model of ESBL-E infection was presented using a nomogram. The predictive model was evaluated on three criteria: discriminatory capacity, calibration ability, and clinical effectiveness. The AuROC was used to evaluate discriminative ability. The calibration curve and Hosmer–Lemeshow test were used to evaluate its calibration ability. Decision curve analysis (DCA) was used to evaluate clinical efficacy. All tests were two-tailed, and a P value of less than 0.05 was considered statistically significant. All statistical analyses were performed using R software (version 3.6.3, Vienna, Austria).
Results
Discussion
In this study, we propose a valuable clinical tool to predict the possibility of ESBL producing organisms as the etiology of urinary tract infection in hospitalized patients. Our prediction tool consists of five variables, including three clinical categories: gender, age, hospital stay in the preceding 3 months, invasive urological procedures, and antibiotic use in the past 3 months. The scoring system is feasible in clinical practice because it contains patient factors that can be easily determined from medical records and can be implemented with minimal health system cost.
The production and evaluation of nomogram is in accordance with conventional methods. The ROC curves, Decision curve analysis and Calibration plots in the article are all evaluations of nomogram, indicating that our nomogram is reasonable. E.g., Assuming a patient of 65 age, male, who has no history of hospitalization, has not undergone surgery but has used antibiotics within three months. We calculate the total points are 160, then the probability of an ESBL-E infection is 38%. Our clinical prediction tool provides doctors with an easy-to-use mechanism to improve the method of determining which patients with urinary tract infection may need broad-spectrum antibiotic coverage. The purpose of wider spectrum coverage is to ensure that individuals are initially treated with appropriate antibiotics. The tool showed excellent discrimination in the derivation queue with AUC of 0.714, but only moderate discrimination in the verification queue with AUC of 0.650. Because urine samples are highly contaminated clinical biological samples, considering the high risk of urine contamination, the AUC of our prediction model is acceptable. Although our nomogram is not perfect and could not be 100% predicted, when patients find urinary tract infection, it has certain guiding significance for doctors' initial medication decision, and more reasonable antibiotics can be selected as soon as possible.
This study has several limitations and ways it could be improved in the future. First, it is a retrospective case–control study with election bias. Second, some data may be missing from the medical records. Third, this study was conducted in a large hospital in China, and only inpatients were recruited; therefore, patients may not be representative of the greater Chinese or world populations. Finally, the overall sample size was too small to include more research factors, but the age span of the population included in this study was large. In the next step of the research, we will increase the sample size, more stringent review of electronic medical records, sub-group analysis for different age groups, and external verification to optimize the model to improve prediction accuracy. Since the proportion of ESBL + resistant strains in our hospital have reached more than 30%, it is very valuable to find a clinical prediction model that could improve the drug resistance of urinary tract infections. Our prediction model is more suitable for hospitals with high ESBL + resistance rates as a reference.
Conclusion
The prevalence of ESBL-E in patients with urinary tract infections in the Chinese hospital system continues to grow, especially among men and the elderly. Hospitalization in the first 3 months, invasive urological procedures, and the use of antibiotics in the past 3 months further increase the risk of infection. The nomogram developed in this study can be used to identify high-risk patients. These patients may benefit from empirical antibiotic prescriptions, such as those explored in this study. Doing so may reduce the failure rate of treatment as promote responsible use of antibiotics which might otherwise contribute to the growing trend of antibiotic resistance.
Acknowledgements
Not applicable.
Declarations
Ethics approval and consent to participate
This study was approved by the Ethics Committee of the First Affiliated Hospital of Jinan University. This study was carried out in compliance with the Declaration of Helsinki guidelines. Clinical Laboratory concluded that no informed consent was required because the data are anonymized appropriately.
Consent for publication
Not applicable.
Competing interests
The authors declare that they have no competing interests.
Open Access
This article is licensed under a Creative Commons Attribution 4.0 International License, which permits use, sharing, adaptation, distribution and reproduction in any medium or format, as long as you give appropriate credit to the original author(s) and the source, provide a link to the Creative Commons licence, and indicate if changes were made. The images or other third party material in this article are included in the article's Creative Commons licence, unless indicated otherwise in a credit line to the material. If material is not included in the article's Creative Commons licence and your intended use is not permitted by statutory regulation or exceeds the permitted use, you will need to obtain permission directly from the copyright holder. To view a copy of this licence, visit
http://​creativecommons.​org/​licenses/​by/​4.​0/​
. The Creative Commons Public Domain Dedication waiver (
http://​creativecommons.​org/​publicdomain/​zero/​1.​0/​
) applies to the data made available in this article, unless otherwise stated in a credit line to the data.
Publisher's Note
Springer Nature remains neutral with regard to jurisdictional claims in published maps and institutional affiliations.