01.12.2014 | Research article | Ausgabe 1/2014 Open Access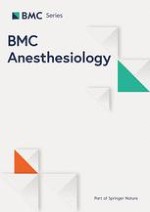 A nationwide postal questionnaire survey: the presence of airway guidelines in anaesthesia department in Sweden
Zeitschrift:
Autoren:

Kati Knudsen, Ulrika Pöder, Marieann Högman, Anders Larsson, Ulrica Nilsson
Wichtige Hinweise
Competing interests
None of the authors have any competing interest associated with this study.
This study was financial supported in part by the Department of Public Health and Caring Sciences, Caring Sciences, Uppsala University and University of Gävle, Faculty of Health and Occupational Studies, Department of Health and Caring Sciences, Gävle and Centre for Research & Development, Uppsala University/County Council of Gävleborg, Gävle, Sweden.
The Editorial services were provided by San Francisco Edit (
http://​www.​sfedit.​net
), assists with the language edition of the manuscript.
Preliminary data for this study were presented as a poster presentation at the Nordic Congress for Anaesthesia and Intensive Care Nurses (NOKIAS, 19–21 September 2013, Copenhagen).
Authors' contributions
KK and UN design of the study and drafted the manuscript. KK sent the questionnaires to participated directors, performed the statistical analysis and wrote the manuscript. MH, AL, UP, and UN analysed the statistics and edited the manuscript critically. All authors read and approved the final manuscript.
Abstract
Background
In Sweden, airway guidelines aimed toward improving patient safety have been recommended by the Swedish Society of Anaesthesia and Intensive Care Medicine. Adherence to evidence-based airway guidelines is known to be generally poor in Sweden. The aim of this study was to determine whether airway guidelines are present in Swedish anaesthesia departments.
Methods
A nationwide postal questionnaire inquiring about the presence of airway guidelines was sent out to directors of Swedish anaesthesia departments (n = 74). The structured questionnaire was based on a review of the Swedish Society of Anaesthesia and Intensive Care voluntary recommendations of guidelines for airway management. Mean, standard deviation, minimum/maximum, percentage (%) and number of general anaesthesia performed per year as frequency (n), were used to describe, each hospital type (university, county, private). For comparison between hospitals type and available written airway guidelines were cross tabulation used and analysed using Pearson's Chi-Square tests. A p- value of less than 0 .05 was judged significant.
Results
In total 68 directors who were responsible for the anaesthesia departments returned the questionnaire, which give a response rate of 92% (n 68 of 74). The presence of guidelines showing an airway algorithm was reported by 68% of the departments; 52% reported having a written patient information card in case of a difficult airway and guidelines for difficult airways, respectively; 43% reported the presence of guidelines for preoperative assessment; 31% had guidelines for Rapid Sequence Intubation; 26% reported criteria for performing an awake intubation; and 21% reported guidelines for awake fibre-optic intubation. A prescription for the registered nurse anaesthetist for performing tracheal intubation was reported by 24%. The most frequently pre-printed preoperative elements in the anaesthesia record form were dental status and head and neck mobility.
Conclusions
Despite recommendations from the national anaesthesia society, the presence of airway guidelines in Swedish anaesthesia departments is low. From the perspective of safety for both patients and the anaesthesia staff, airway management guidelines should be considered a higher priority.