01.12.2014 | Preclinical study | Ausgabe 3/2014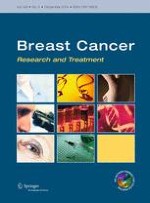 A novel vaccinia virus with dual oncolytic and anti-angiogenic therapeutic effects against triple-negative breast cancer
Zeitschrift:
Autoren:

Sepideh Gholami, Andrew Marano, Nanhai G. Chen, Richard J. Aguilar, Alexa Frentzen, Chun-Hao Chen, Emil Lou, Sho Fujisawa, Clarisse Eveno, Laurence Belin, Pat Zanzonico, Aladar Szalay, Yuman Fong
Wichtige Hinweise
Sepideh Gholami and Andrew Marano have contributed equally to this work.
Abstract
Vascular endothelial growth factor (VEGF) expression is higher in triple-negative breast cancers (TNBC) compared to other subtypes and is reported to predict incidence of distant metastases and shorter overall survival. We investigated the therapeutic impact of a vaccinia virus (VACV) GLV-1h164 (derived from its parent virus GLV-1h100), encoding a single-chain antibody (scAb) against VEGF (GLAF-2) in an orthotopic TNBC murine model. GLV-1h164 was tested against multiple TNBC cell lines. Viral infectivity, cytotoxicity, and replication were determined. Mammary fat pad tumors were generated in athymic nude mice using MDA-MB-231 cells. Xenografts were treated with GLV-1h164, GLV-1h100, or PBS and followed for tumor growth. Viral infectivity was time- and concentration-dependent. GLV-1h164 killed TNBC cell lines in a dose-dependent fashion with greater than 90 % cytotoxicity within 4 days at a multiplicity of infection of 5.0. In vitro, cytotoxicity of GLV-1h164 was identical to GLV-1h100. GLV-1h164 replicated efficiently in all cell lines with an over 400-fold increase in copy numbers from the initial viral dose within 4 days. In vivo, mean tumor volumes after 2 weeks of treatment were 73, 191, and 422 mm
3
(GLV-1h164, GLV-1h100, and PBS, respectively) (
p
< 0.05). Both in vivo Doppler ultrasonography and immuno-staining showed decreased neo-angiogenesis in GLV-1h164-treated tumors compared to both GLV-1h100 and PBS controls (
p
< 0.05). This is the first study to demonstrate efficient combination of oncolytic and anti-angiogenic activity of a novel VACV on TNBC xenografts. Our results suggest that GLV-1h164 is a promising therapeutic agent that warrants testing for patients with TNBC.