01.12.2017 | Research article | Ausgabe 1/2017 Open Access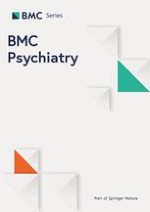 A pilot study on feasibility, acceptance and effectiveness of metacognitive-oriented social skills training in schizophrenia
Zeitschrift:
Autoren:

Felix Inchausti, Nancy V. García-Poveda, Alejandro Ballesteros-Prados, Eduardo Fonseca-Pedrero, Javier Ortuño-Sierra, Sergio Sánchez-Reales, Javier Prado-Abril, José Antonio Aldaz-Armendáriz, Joe Mole
Abbreviations
BDI–II
Beck depression inventory–II
ICD–10
International classification of diseases–tenth revision
MAI
Metacognition assessment interview
MAS–A
Metacognition assessment scale–abbreviated
MOSST
Metacognition-oriented social skills training
PANSS
Positive and negative syndrome scale
PSP
Personal and social performance scale
RCT
Randomized controlled trial
Background
Although not included in the diagnostic criteria, impaired social functioning is considered one of the most common features of schizophrenia spectrum disorders and has been widely described in the literature [
1
]. Examples of this set of deficits include poor management of conflicts, difficulty conversing, and aggressive behavior towards family, friends, community members and/or co-workers. As a result, social skills training (SST) has emerged as a well-validated intervention that is recommended in several treatment guidelines for schizophrenia [
2
,
3
]. However, many studies have found that the effects of these interventions on patients' social functioning, and the generalizability of these effects, are poorer than desired. For instance, a meta-analysis conducted by Pilling et al. [
4
] did not find any significant benefit of SST clinical trials. Similarly, Kurtz and Mueser [
5
] found that SST produced only a modest effect size with respect to improvements in psychosocial functioning (
d
= 0.52), and there was only a small effect size for relapse reduction (
d
= 0.23). Thus, a recent Cochrane Collaboration Review [
3
] has concluded that, to date, it remains unclear whether current SST programs are more effective than standard care.
This literature has spurred efforts to increase the impact of SST interventions for people with schizophrenia spectrum disorders [
6
–
8
]. One promising approach is based on the hypothesis that metacognitive deficits are the key barrier to adaptive social functioning in psychosis [
9
]. Within a broad term of metacognition, it refers to the range of mental activities that allow people to be aware of and reflecting upon their own thoughts, feelings, and intentions, and those of other people, and ultimately formulate connections between these events into larger complex representations of themselves and others [
10
]. Metacognitive deficits may vary from those that affect the ability to differentiate reality from fantasy to the capacity to empathize with others, and to think flexibly about mental states. In the literature, these skills have also been referred to as social cognition, theory of mind, or mentalization, to name but a few. In this work, the construct of metacognition is used as an "umbrella" term for all the mental processes that underlie social interaction. A wealth of evidence shows that individuals with schizophrenia have deficits on more discrete facets of metacognition such as the perception of emotional information [
11
], as well as more synthetic aspects of metacognition, such as the integration of information into larger representations of oneself, others and the world [
12
].
It may be logical to assume that adaptive social functioning requires understanding of one's own and other's mental states. Thus, effective social performance demands self-reflectivity, care about others, and the management of emotional arousal that frequently follows intersubjective experience. To understand other people also requires one to imagine being in a similar situation to others, share the feelings of others, which goes beyond just guessing his/her emotion, and then manage any resulting feelings [
13
]. Given the importance of these skills, remediating metacognition may be an imperative component of effective SST. Unfortunately, many existing SST almost entirely neglect the promotion of the metacognitive abilities [
14
]. In light of this, Ottavi et al. [
15
] have recently developed a novel metacognition-oriented SST (MOSST) intervention that includes metacognitive remediation as a means of improving the effectiveness of conventional SST for patients affected by psychosis. MOSST is a structured manualized intervention designed to stimulate participants' capacity to reflect on the thoughts, emotions, and intentions of others [
16
]. To date, MOSST has been used with small groups of patients with long-term schizophrenia on partial hospitalization or with first-episode psychosis [
16
]. As far as we know, the only published study on the effects of MOSST is a case illustration wherein a 56-year-old individual with schizophrenia successfully completed the full program [
15
]. After intervention, the authors reported improvements in the patient's ability to be aware of, understand and communicate his own and other people's mental states, and to evoke adaptive social behavior during role-play. The skills that this patient acquired during training also widely generalized to the 'real-world', which had a largely positive impact on his quality of life. However, there is still a lack of empirical support for these observations.
As a precursor to a RCT for MOSST (trial registry as ISRCTN10917911), we conducted a pilot study to clarify previous aspects. In particular, we sought to investigate (1) whether new therapists could be trained in MOSST, and the level of post-training supervision that would be necessary. Secondary data were collected to (2) estimate the magnitude of the intervention effect and therefore determine the required sample size for a RCT, (3) verify the acceptance rate of the therapy, and (4) determine whether the intended test battery and its administration was feasible.
Methods
Results and discussion
This pilot study sought to examine the feasibility of a RCT to analyze the effects of a newly developed metacognitive SST: MOSST. Our first question was to determine whether new therapists could be trained in MOSST and what levels of post-training supervision are required. Both the supervisor and therapists felt that the method had been transferred successfully. Post-session meetings were helpful, both as a fidelity check and to guide therapists in identifying which elements of the therapy they had difficulty with and should be discussed in supervision. In relation to the levels of supervision required, therapists found that active participation in supervision was essential for successful application of MOSST. Although weekly supervision would be desirable, this may not be feasible in many public healthcare settings. A reasonable consensus between the supervisor and therapists was reached that fortnightly face-to-face supervision seems to be the minimum requirement (Table
3
).
Table 3
Means (standard deviations) in relevant outcomes at pre- and post-treatment
PSP

 Self-care

2.00 (1.00)

2.00 (1.00)

0.00

1

0.00

 Activities

2.67 (0.98)

1.65 (1.03)

1.02

0.12

1.01

 Relationships

3.33 (0.49)

2.45 (0.60)

1.67

0.09

1.61

 Behaviors

1.33 (0.49)

0.67 (0.99)

1.69

0.12

0.84

 Total

53.31 (7.39)

60.00 (8.70)

−5,06

0.11

–0.83

MAS–A

 Self-reflectivity

3.67 (0.98)

4.33 (1.23)

−1.15

0.27

−0.59

 Others

2.67 (0.98)

3.67 (1.10)

−1.59

0.14

−0.96

 Decentration

1.33 (0.49)

1.83 (0.54)

−0.73

0.48

−0.44

 Mastery

2.39 (0.68)

2.58 (0.71)

−0.45

0.66

−0.27

 Total

10.06 (2.95)

12.41 (3.45)

−2.32

0.14

–0.73
Our second goal was to estimate the magnitude of clinical gains and determine the sample size required for a RCT. The following (non-statistically significant) effect sizes were obtained on PSP scores: self-care, 0; socially useful activities, 1.01; personal and social relationships, 1.61; and disturbing and aggressive behaviors, 0.84, (total, −0.83). Concerning MAS–A scores, effect sizes obtained were as follows: self-reflectivity, −0.59; understanding the other's mind, −0.96; decentration, −0.44; and mastery, −0.27 (total − 0.73). Pre-test data from participants who dropped out did not affect the magnitude of these effect sizes. The effect size for both total PSP and MAS–A scores (−0.83 and −0.73 respectively) were entered in SAS. To detect such effects, or larger ones, using an independent samples
t
-test at the conservative alpha of 0.05 (two-tailed), a minimum sample size of 32 per group would be required. Assuming a 15% drop-out rate, a sample of 37 patients per group is needed.
It is worth highlighting the positive progress on psychosocial functioning of patients (
d
= −0.83), especially in relation to the increase of useful social activities (
d
= 1.01) as well as personal and interpersonal relationships (
d
= 1.61). The magnitude of these effect sizes was clearly larger than those reported in other studies analyzing the impact of standard SST. For instance, the meta-analysis conducted by Kurtz and Mueser [
5
] found only a medium effect size on psychosocial functioning (
d
= 0.52). Despite the small sample size of this pilot study, the results obtained with MOSST are encouraging to warrant further investigation.
Regarding change in metacognition, MOSST produced overall improvements on self-reflectivity (
d
= −0.59) and understanding the other's mind (
d
= −0.96). Although some progress on decentration was also observed, these changes were weaker (
d
= −0.44). These findings revealed a pattern of metacognitive gains consistent with the previous case report on the effects of MOSST [
15
], as well as with results obtained in other metacognitively oriented psychotherapies [
29
,
30
]. However, MOSST seems to be specifically aimed at improving self-reflectivity and the others' understanding abilities. In previous studies gains in mastery were reported to have improved rather swiftly but in this study such gains were absent [
22
]. An explanation of this effect could be the fact that MOSST was primarily designed to increase the participants' awareness of their own thoughts and emotions, and to enrich their perspective of others' mental functioning. MOSST also seems to help patients to understand that their own thoughts are subjective experiences separate from the mind of others, and that their internal expectations do not have a direct effect on reality. Either way, our findings are consistent with a hierarchical model of metacognition in schizophrenia [
17
].
The large effect of MOSST on psychosocial functioning might also be explained in terms of metacognitive gains. If patients are more aware of their own mental states and those of others, they might, therefore, improve their thinking about the need for more friends and people who care about them, as well as of this need in others. Moreover, it seems important to note that expecting any change regarding social functioning requires improves the self-reflectivity (e.g., to become aware that people are closer) and the understanding of others' mind (e.g., to develop plausible guesses about internal states of others). Given the limited sample size, no further interpretation of these data was ventured.
We thirdly sought to determine at what rates patients would accept and participate in MOSST. There were 2 drop-outs (16.7%), which was similar to other comparable studies in psychosis [
31
]. Reasons for dropping out were relapse and a patient's decision that he or she did not need the treatment. The rate of acceptability and subjective impact of MOSST were adequate on all 10 parameters assessed. All patients who completed the full protocol rated the program as useful, generalizable to the real world, recommendable to others, and fun. For most participants, MOSST provided a challenge to identify and name their emotions, understand the limited influence of their expectations and desires on reality, and understand the mind of others and the existence of different points of view. Patients also rated positively the metacognitive approach of MOSST, and substantial improvements in therapist-patient communication over sessions were observed. In this regard, the use of self-disclosing and self-involving statements increased the intervention adherence.
The fourth aim was to examine the feasibility of the test battery and its administration. This proved efficient, particularly in ensuring there were no missing data. However, difficulties were encountered in ensuring consistency in PANSS scoring between assessors. For the RCT, additional documentation was developed and distributed to increase inter-rater reliability.
Conclusions
Results collected from this pilot study are promising: both the methodology of the therapy protocol and data gathering seem adequate. This study, although a pilot in nature, is the first to suggest that Spanish outpatients with schizophrenia will accept a metacognitive SST, and shows evidence of improvements in psychosocial functioning. There are important limitations of the current study. Most notably, the sample size is insufficient and no control group was used. There is also a clear overrepresentation of males in the sample. Moreover, the duration of the treatment was brief, and results are needed from the ongoing trial to evaluate issues of dose and response. Finally, results from the ongoing trial are required to better understand whether changes in metacognition translate readily into improved daily functioning, clinical symptoms and outcomes in general.
Acknowledgements
The authors wish to thank all of the patients who participated in the study. We would also like to acknowledge the following institutions: Complejo Hospitalario of Navarra, University of La Rioja, P3 Prevention Program of Psychosis, Aragon Health Sciences Institute, Miguel Servet University Hospital, and BBVA Foundation for researchers and creative artists.
Availability of data and materials
The datasets used and/or analyzed during the current study available from the corresponding author (FI) on reasonable request.
Authors' contributions
All authors were involved in the design of the study and the ongoing management and delivery of the study, and all contributed to drafts of this manuscript. FI, the principal investigator, conceived the study, prepared the protocol, contributed to the training and supervision of the therapists and supervision of the researchers, had overall responsibility for the day-to-day running of the study, interpreted the data, took the lead on writing of the report, and is the guarantor for the study. NG and AB conducted the therapy sessions. SS and JP supervised and coordinated recruitment, contributed to training of research staff, and were responsible for staff management and overall coordination of the study. JA and JO were responsible for maintaining reliability of assessment procedures and data collection. EF developed the analysis plan, and did the statistical analyses. JM thoroughly reviewed the final draft and is responsible for the final version. All authors read and approved the final manuscript.
Competing interests
The authors declare that they have no competing interests.
Consent for publication
Not applicable.
Ethics approval and consent to participate
The study was conducted in compliance with local regulations and internationally established principles of the Declaration of Helsinki (64th World Medical Association General Assemble, Fortaleza, Brazil, 2013). The Clinical Research Ethics Committee of the HSC of Navarra approved the study and protocol. Before inclusion, all patients were required to sign an informed consent form.
Publisher's Note
Springer Nature remains neutral with regard to jurisdictional claims in published maps and institutional affiliations.
Open Access
This article is distributed under the terms of the Creative Commons Attribution 4.0 International License (
http://​creativecommons.​org/​licenses/​by/​4.​0/​
), which permits unrestricted use, distribution, and reproduction in any medium, provided you give appropriate credit to the original author(s) and the source, provide a link to the Creative Commons license, and indicate if changes were made. The Creative Commons Public Domain Dedication waiver (
http://​creativecommons.​org/​publicdomain/​zero/​1.​0/​
) applies to the data made available in this article, unless otherwise stated.