29.05.2018 | 2018 SSAT Poster Presentation | Ausgabe 4/2019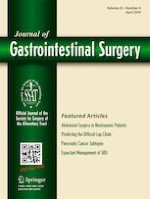 A Retrospective and Prospective Study to Develop a Pre-operative Difficulty Score for Laparoscopic Cholecystectomy
Zeitschrift:
Autoren:

Yousef Ibrahim, Rami W Radwan, Ali Adel Ne'ma Abdullah, Mohamed Sherif, Usman Khalid, James Ansell, Ashraf Rasheed
Wichtige Hinweise
Accepted for Presentation at Digestive Disease Week (DDW) (SSAT Biliary Tract Diseases III), Washington DC (2–5th June 2018)
Presented at Association of Upper Gastrointestinal Surgeons of Great Britain and Ireland (AUGIS) 20th Annual Scientific Meeting 2017, Rochestown Park Hotel, Cork (21–22nd September 2017)
Presented at Welsh Surgical Society 2017 Autumn Meeting, The Coldra Court Hotel, Newport (23–24th November 2017)
Abstract
Background
The objectives of this study were to develop a grading system to enable pre-operative prediction of technical difficulty of laparoscopic cholecystectomy using retrospective data and to attempt to validate our scoring system prospectively.
Methods
Retrospective analysis was conducted of 100 consecutive patients. Pre-operative variables were collected based on a template devised by the American College of Surgeons. Outcomes were duration of surgery, conversion to open and post-operative complications. Multivariate analysis with subsequent measurement of hazard ratios was used to formulate a weighted grading system. Prospective analysis was performed of 100 consecutive patients who were scored pre-operatively. Outcomes were duration of surgery and length of stay.
Results
Retrospective univariate analysis identified four variables associated with an increase in duration of surgery: male gender (
p
 = 0.023), age (
p
 = 0.000), body mass index (BMI) (
p
 = 0.000) and pre-operative endoscopic retrograde cholangiopancreatography (ERCP) (
p
 = 0.001). Prospective analysis revealed weak positive correlations between the scoring system and duration of surgery (0.34) and length of stay (0.40).
Conclusion
We have identified four pre-operative variables that predicted a longer duration of surgery. Preliminary results suggest a positive correlation between this scoring system and duration of surgery. An adequately powered prospective multi-centre study is needed to validate our findings.