07.01.2016 | Ausgabe 9/2016 Open Access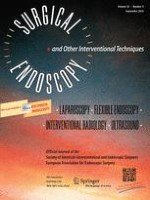 A single-center experience with the laparoscopic Warshaw technique in 122 consecutive patients
Zeitschrift:
Autoren:

Hanbaro Kim, Ki Byung Song, Dae Wook Hwang, Jae Hoon Lee, Sang Hyun Shin, Eun Sung Jun, Seong-Ryong Kim, Bong Jun Kwak, Tae Gu Kim, Kwang-Min Park, Young-Joo Lee, Song Cheol Kim
Abstract
Background
Preservation of the spleen in distal pancreatectomy has recently attracted considerable attention. Our current study aimed in the first instance to define the safety of lap-WT in relation to the capacity of this technique to achieve preservation of the spleen and secondly to investigate the effectiveness of a planned lap-WT procedure or early conversion to lap-WT in selected patients with a large tumor attached to the splenic vessels.
Methods
Among 1056 patients who underwent a laparoscopic distal pancreatectomy between January 2005 and December 2014 at our hospital, 122 (24.6 %) underwent lap-WT which were analyzed. The 122 patients were categorized into two groups chronologically (early group: 2005–2012, late group: 2013–2014).
Results
The median follow-up was 35 months, and the median operation time was 181 min. The median postoperative hospital stay was 7 days, and the median estimated blood loss was 316 ml. Postoperative complications occurred in 9 patients (7.3 %), including 4 patients (3.2 %) with major pancreatic fistula (ISGPF grade B, C). A reoperation to address postoperative bleeding was needed in one patient. During a median follow-up of 35 months, there were no clinical significant splenic infarctions or gastric varices in any case. All patients were observed conservatively. In patients in the late group who underwent the lap-WT, the mean operating time (171 vs. 205 min,
p
= 0.001) and mean estimated blood loss (232.1 vs. 370.0 ml,
p
= 0.017) were significantly less than the early group cases who received lap-WT.
Conclusions
A lap-WT is a safe treatment strategy in select cases when used as a way of preserving the spleen. When splenic vessel preservation is technically challenging, for example when the tumor is enlarged or is attached to the splenic vessels, planned lap-WT or early conversion to lap-WT may be a feasible option.