19.05.2020 | Research Article | Ausgabe 4/2020 Open Access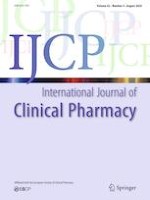 A survey of the European Society of Clinical Pharmacy members' research involvement, and associated enablers and barriers
Zeitschrift:
Autoren:

Derek Stewart, Vibhu Paudyal, Cathal Cadogan, Ankie Hazen, Betul Okuyan, Monika Lutters, Martin Henman, Daniella Fialová
Wichtige Hinweise
Publisher's Note
Springer Nature remains neutral with regard to jurisdictional claims in published maps and institutional affiliations.
Impacts on practice
There is an opportunity for ESCP to harness the research activities, interest, experience, confidence and generally positive views to create greater impact for patients, professionals, organisations and society across Europe and beyond.

ESCP as an organisation can provide support in the form of mentoring, education and training, focusing most on those form non-academic settings.
Introduction
Pharmacy practice is continually evolving, with pharmacists providing enhanced services involving direct patient care, such as general practice-based activities, non-medical prescribing, and specialist roles in ambulatory, secondary and tertiary care [
1
–
4
]. Consequently, the application of evidence-based practice (EBP), the integration of best available evidence with practitioners' clinical expertise and patients' values [
5
], is highly relevant. Awareness of, and participation in, research could facilitate adoption of EBP within current and emerging roles.
Professional organisations and regulatory bodies are placing increasing emphasis on participation in research. For example, the International Pharmaceutical Federation (FIP) emphasises the need for pharmacists to take on significant responsibilities in research in order to contribute to improvements in global health by advancing drug discovery and development, clinical practice and education [
6
].
However, limited published research exists on pharmacists' current involvement in research and their future needs. Current available literature is mostly based in either the UK or non-European countries [
7
,
8
]. In addition, there is a lack of consistent application of how research involvement or engagement has been defined and adopted. The existing published literature, albeit limited, suggests that barriers to participation and involvement are often behavioural in nature. For example, barriers include a lack of knowledge, skills and self-motivation. There is therefore a need to incorporate behaviour change theories or frameworks in undertaking future research in the area. Incorporation of behaviour change theory permits the identification of possible theoretical mechanisms of behaviour change leading to the development of targeted intervention(s) [
9
]. The Theoretical Domains Framework (TDF) includes constructs from 33 behaviour change theories, described in 14 domains (i.e. the determinants of behaviour) of: knowledge; skills; social/professional role and identity; beliefs about capabilities; optimism; beliefs about consequences; reinforcement; intentions; goals; memory, attention and decision processes; environmental context and resources; social influences; emotions; and behavioural regulation.
The use of the TDF has previously enabled assessment of associated barriers of pharmacists' involvement in research, in diverse practice settings in Scotland [
8
]. Key barriers mapped to TDF domains of 'knowledge' (e.g. organization research priorities, training and funding opportunities), and 'environmental context and resources' (e.g. research active environment, time, support). Study limitations included the low response rate and absence of a qualitative phase to allow in-depth exploration of survey findings.
The European Society of Clinical Pharmacy (ESCP) is a professional network of clinical pharmacists in Europe. Established in 1979, ESCP aims to 'promote, support, implement and advance education, practice and research in clinical pharmacy in order to optimise outcomes for patients and society' [
10
]. Building research capacity, defined as 'enhancing the abilities of individuals, organisations and systems to undertake and disseminate high quality research effectively and efficiently' [
11
], aligns to this aim. There is an opportunity to engage with this network to identify the needs and future requirement of pharmacists in order to harness pharmacy practice research capacity and activities across Europe.
Aim of the study
Aims of the study were to determine ESCP members' aspirations and needs in relation to research training and practice and to explore ways in which ESCP could support members in meeting these needs.
Ethics approval
The ESCP General Committee approved the study; as participants were members of an international organisation, there was no need for ethical review.
Method
Design
This was an explanatory, sequential mixed methods study involving a cross-sectional survey followed by a qualitative phase.
Cross-sectional survey
Inclusion and exclusion criteria
All ESCP members were invited to participate, excluding members of the ESCP Research Committee (n = 8), giving a study population of 499.
Questionnaire development
The questionnaire was based on that used in Scotland [
8
], adapted for the ESCP context. Items were based on the 14 domains of the TDF and the Transtheoretical Model of Behaviour Change [
12
]. Stages of change are 'pre-contemplation' (not ready), 'contemplation' (getting ready), 'preparation' (ready), 'action' and 'maintenance'. In the demographics section, respondents classified themselves as innovators, early adopters, early majority, late majority and laggards based on receptivity to change, using the wording described by Rogers [
13
].
The questionnaire was tested for face and content validity by the members of the ESCP Research Committee. Given the previous use of a similar questionnaire [
8
], no pilot stage was conducted. The questionnaire was developed in Bristol Online Survey© and tested for compatibility with platforms (PC, tablet, smartphone), browsers and internet filters. Question types were a combination of closed and open questions to allow respondents to provide comments. Evidence-based strategies were employed to maximise the response rate [
14
], including: an information leaflet outlining the study aim and potential benefits; assuring anonymity; an attractive questionnaire; and two follow-up email reminders.
Data collection
During September 2018, ESCP members were sent an email from the ESCP International Office with a direct link to the information leaflet and questionnaire. Two email reminders were sent to all ESCP members at approximately 2-monthly intervals.
Analysis
The survey instrument generated data that were exported to Statistical Package for Social Sciences (SPSS Inc., Cary, NC version 25.0). Descriptive analysis was undertaken for: demographics; research activities; research interest, experience and confidence; views on research conduct; and readiness to participate in research and research training. Internal consistencies of responses on interest, experience and confidence were tested using Cronbach's alpha, aiming for values ≥ 0.7 [
15
]. Total scores [median and interquartile range (IQR)] for each scale were obtained by assigning values (1 = no to 5 = very). Differences in total scores of interest, experience and confidence were tested using Friedman's two-way analysis of variance by ranks. Correlation between overall scores of interest/experience, interest/confidence and experience/confidence were assessed using Spearman's rho.
P
values ≤ 0.05 were considered to be statistically significant. Given the number of responses, it was not possible to conduct any inferential statistical analysis to investigate any differences between subgroups (e.g. age etc.)
While it was intended to use principal component analysis (PCA) to reduce the large number of TDF-related items to a smaller number of components [
16
], the number of responses proved insufficient. Consequently, the PCA components identified in the study in Scotland [
8
], were used to group the items into: support and opportunities to be involved in research; motivation for and outcomes of involvement in research; and individual roles and characteristics around involvement in research. Following determination of internal consistencies for each of the three components, total scores (median and interquartile range, IQR) were obtained by assigning scores of 1 (strongly disagree) to 5 (strongly agree) to each of the Likert statement responses and each of these compared to the scale midpoint.
Summative content analysis was independently performed by two members of the research team on the responses to the open questions, looking for patterns, similarities and differences [
17
].
ESCP symposium focus group
Recruitment
The focus group discussion took place at the ESCP Symposium in October 2018. Those attending the symposium who had completed the questionnaire were invited to participate. The session was of 1-h duration and moderated by three ESCP Research Committee members.
Data generation and analysis
Participants were arranged into groups, with data generated in two separate stages. In Stage 1, each participant was asked to individually record the top three barriers to fulfilling their research aspirations. These were recorded on post-it notes, which were then arranged into thematic groupings on a flip chart by group members. In Stage 2, groups discussed how ESCP could facilitate their research aspirations, being cognisant of the limited resources of ESCP. Each group recorded the outcomes of their discussion on flip charts as in Stage 1. Data analysis was independently undertaken by two researchers, involving collating, comparing and contrasting all themes.
Results
Discussion
ESCP member respondents were highly involved in research, interested, experienced and confident. Responses to all three PCA components were positive, with the most negative for items on sufficient time and access to resources. Participants of the qualitative phase identified a number of areas in which ESCP could support their research aspirations through mentoring, supporting collaboration, and providing education and training.
Strengths to this research include the mixed methods approach and the use of a framework of behaviour change theories. The major limitation is the response rate, which was disappointing given that the study population comprised members of a professional network. There are therefore potential issues resulting from response bias with those responding potentially more interested and involved in research. It is notable that in excess of 40% of respondents were from an academic setting and 70% possessed a Ph.D. Further limitations include the potential lack of validity of self-reported data and social desirability bias. The quantitative results may therefore lack generalisability and the qualitative findings transferability to all ESCP members and the population of pharmacists in Europe.
Future research can centre around ESCP developing mechanisms to support these aspects followed by evaluation of quantitative (e.g. research activity and output) and qualitative (e.g. members' perspectives) outcomes. In addition, there may be merit in focusing on those from non-academic settings.
Conclusion
ESCP participants in this study were highly research active, interested, experienced, confident and positive regarding research conduct and outcomes. There is an opportunity for ESCP to harness these activities, aligned to the ESCP aim, and provide support in the form of mentoring, education and training, and facilitating research collaboration.
Acknowledgements
The publication of this article was funded by Qatar National Library. The authors are grateful to all ESCP members who completed the questionnaire and participated in the discussions, the International Office and Robert Gordon University, UK, for support with questionnaire online formatting.
Conflicts of interest
There are no conflicts of interest.
Open Access
This article is licensed under a Creative Commons Attribution 4.0 International License, which permits use, sharing, adaptation, distribution and reproduction in any medium or format, as long as you give appropriate credit to the original author(s) and the source, provide a link to the Creative Commons licence, and indicate if changes were made. The images or other third party material in this article are included in the article's Creative Commons licence, unless indicated otherwise in a credit line to the material. If material is not included in the article's Creative Commons licence and your intended use is not permitted by statutory regulation or exceeds the permitted use, you will need to obtain permission directly from the copyright holder. To view a copy of this licence, visit
http://​creativecommons.​org/​licenses/​by/​4.​0/​
.
Publisher's Note
Springer Nature remains neutral with regard to jurisdictional claims in published maps and institutional affiliations.